It is hard for me to believe it was 20 years ago this April that Johnson, Grossnickle and Associates was born through a newly formed partnership between founders Don Johnson and Ted Grossnickle. I had the honor of being the first additional consultant to join the team in 1996.
Since then, JGA has grown to twelve employees and has helped more than 250 nonprofits fund their philanthropic missions through strategic and authentic fundraising counsel. Now an employee-owned firm, JGA prides itself on its contributions to philanthropy and its commitment to honesty, integrity, and over delivering service to its clients - values integral to the kind of company Don and Ted envisioned creating so many years ago. Read more about JGA's history.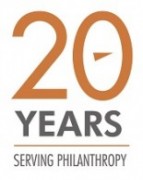 For its part, JGA has always been committed to strengthening the field of philanthropy and enhancing and sharing our understanding of best practices in the industry with our colleagues and clients. JGA consultants have been frequent lecturers, teachers, and commentators on the field both locally and nationally.
In 2009, we began a commitment to formal research in the field with our participation in three years of Young Donor/Millennials research. We continued that commitment in 2012 with the launch of the Million Dollar Ready research into the characteristics that help higher education institutions successfully attract million dollar plus gifts.
We are proud to announce that our 20th Anniversary celebration will be used as an opportunity to further expand our mission to strengthen philanthropy. We have partnered with the Indiana Chapter of AFP to host an expanded and enhanced series of speakers for 2013. The JGA Signature Speaker Series will allow JGA and AFP to bring three highly respected philanthropy experts to speak in Indianapolis in 2014. Two of the featured speakers have already been announced and a third will be announced later this spring.
Katherina Rosqueta, Founding Executive Director, Center for High Impact Philanthropy
Thursday, April 17, 11:30 a.m. - 1 p.m. at the Indianapolis Hilton Downtown
Register
Stacy Palmer, Editor, Chronicle of Philanthropy
Tuesday, May 20th, 3:30 - 5 p.m. at the Ivy Tech Corporate College and Culinary Center
If you are able to join us in Indianapolis, we hope to see you at these special presentations in 2014 as we happily celebrate 20 years of service to philanthropy.