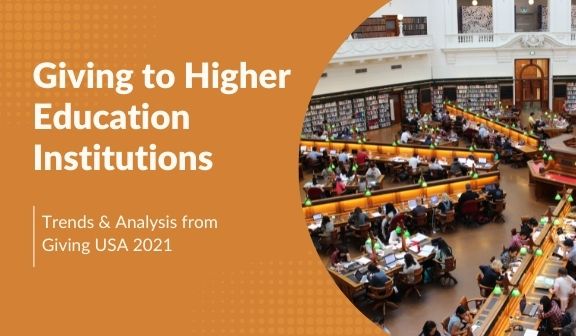 Giving USA 2021: The Annual Report on Philanthropy for 2020, the annual estimates of charitable giving for 2020 by Giving USA Foundation, found that giving reached more than $471 billion—with education reaching $71.34 billion in total contributions—the highest totals in history for both.
Key trends in giving to education in 2020 included:
Giving from individuals—the largest source, totaling 69% of all 2020 contributions—increased from 2019. The increase was tied largely to the continued outsized impact of megagifts and giving to donor-advised funds (DAFs). Other giving sources were foundations (19%), bequests (9%), and corporations (4%). Giving USA does not track giving by source specifically to education, which includes higher and secondary education institutions and organizations supporting student success. However, the Council for Advancement and Support of Education (CASE) reported that 2020 fiscal year giving included 22.3% by alumni and 17.4% by non-alumni (totaling 39.7% by individuals), 33.2% by corporations, 13.6% by other—which includes DAFs—and 13.4% by corporations. Individuals influence many sources of giving to education through family foundations, DAFs, bequest gifts, and family-owned businesses.