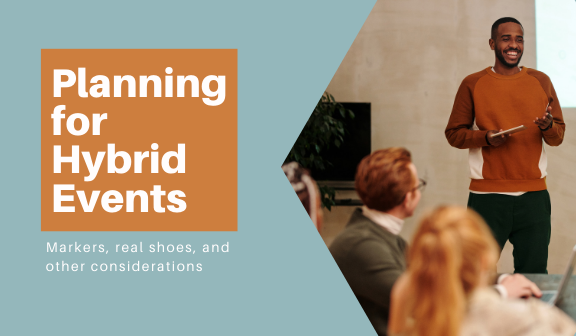 In June 2021, I attended my first in-person board strategy session since the pandemic began 15 months ago. I was delighted to grab a marker and write on a white board to capture the brainstorming ideas of a group of committed volunteers who were excited to be together. At the same time, I was facilitating a group of volunteers on Zoom who joined the meeting virtually and diligently followed the conversation and contributed their ideas. By the end of the 4-hour session, I was admittedly relieved that the blend of in-person and virtual had gone so well – buoyed by excellent technology, the ability to host small group breakouts both in-person and virtually, and attentiveness to the needs of all attendees regardless of their method of participation.
This is our new reality in both meeting and event planning. For the remainder of 2021, and likely beyond, we will be challenged to welcome all to our meetings and events regardless of geography, health, and busy schedules.
What are the key considerations we need to address as we step into this new reality?