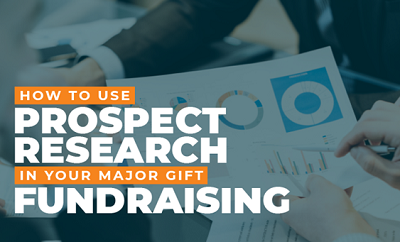 Major gifts are crucial for driving your nonprofit's mission forward. With the help of these generous donors, you can launch large initiatives, expand your team, or even build new facilities. However, identifying potential major donors is a significant challenge facing nonprofits. So how can you improve your identification process and begin forming connections with major supporters?
The answer: prospect research.
By using publicly available information, prospect research can help you determine who in your constituency may be willing and able to give major gifts to your nonprofit. Commonly considered data points include both wealth indicators and previous philanthropic behavior. With smarter prospect research strategies, your major gifts officer has a better chance of securing those all-important donations with maximum efficiency.
Prospect research offers several valuable insights that can help you identify future major donors. In this guide, JGA asked Bill Tedesco, Founder & CEO of DonorSearch, to share his top five tips for using prospect research in your major gift fundraising efforts. Here are his strategies:
Let your major gifts officer lead the charge.

Use your research to create an RFM score.

Cultivate prospects with both affinity and capacity.

Supplement wealth/philanthropic indicators with personal information.

Leverage business connections for corporate matching gifts.