How to Use Data to Improve Your Fundraising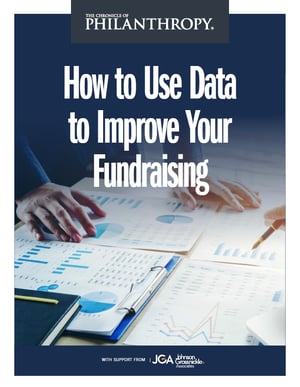 Many nonprofits track donor engagement and analyze wealth, but few look at these variables together causing them to miss major gift opportunities. Nonprofits who actively evaluate their data are able to identify donors with the greatest willingness and capacity to give -- and cultivate relationships rather than taking a scattershot approach.
How do nonprofits leverage the data they already have? How can they collect more to discover giving patterns? What metrics should they be paying attention to most?
Download this article collection produced by Chronicle Intelligence, a division of the Chronicle of Philanthropy, and Johnson, Grossnickle and Associates to explore insights into getting the most out of your organization's data.
Articles include:
How a University Used Data Analytics to Improve Fundraising – and You Can, Too

How to Identify Donors with the Greatest Potential to Give

How to Streamline the Evaluation of Potential Donors

Blueprints for the Future

Acuity®: Unleash Your Donor Data and Focus Your Development Efforts