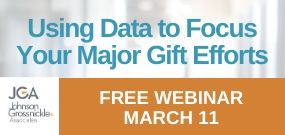 Though personal visits are the gold standard to engage and cultivate major gift donors, they can be costly and labor intensive if you are not seeing the right prospects. But how can you ensure you are connecting with the best prospects?
Your database holds the answer. Big data is a buzz word we're hearing more and more about, particularly for its ability to organize large volumes of data to uncover hidden trends and its ability to make organizations more efficient through predictive analytics. This emerging trend involves utilizing historical data to find patterns and correlations to build assumptions and develop potential scenarios. So how do we take those concepts and put them into practice with our nonprofit organizations?
The trick to finding major and planned gift donors within your data is to identify those with both the ability to make a major donation, as well as the affinity to give to your organization. A good prospect has not only the capacity to give to your organization, but also an interest and inclination to give to your mission.
While you can't grow a prospect's capacity, inclination can be nurtured through cultivation.