Over the years, JGA has often been asked to help nonprofit organizations move from a transactional fundraising model – focused heavily on direct mail and special events – to a long-term sustainability model. The latter approach is based on building donor relationships that encour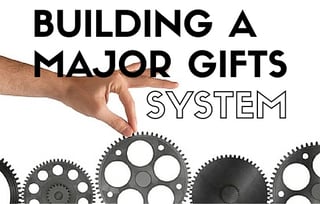 age and create meaningful opportunities for philanthropic investment in an organization. A key to success in this relationship-building, major gifts-focused model is a formal prospect management approach.
How do you put in place such a system? What actions need to be taken to formalize an ongoing program of major gifts fundraising? The following are four fundamental steps in implementing a systematic approach to major gift development:
1. Identify prospects to be included in prospect management.
Prospect assignments for organizational leadership and development staff should include a balanced pipeline of major gift prospects in cultivation, solicitation, and stewardship. A list should be compiled based on previous giving levels, recommendations from staff and board members, and additional research conducted by the staff. Prospects who should be assigned for management include those who are anticipated to have the capacity and inclination to make a major gift to the organization. What constitutes a major gift depends on the size of the organization, its operating budget, and its donor base. For some organizations, a major gift may be $10,000; for others, $100,000 or more.

2. Assign identified prospects to specific staff members.
After the list has been complied, development staff leadership should review the list and begin determining who has the best relationship with the prospective donor and can engage the prospect in a strategic way.
When a prospect is under "management" by a staff member, it does not mean that the staff member is the only one who interacts with that prospect; rather, the staff member manages the relationship and ensures the prospect receives regular communication and interaction. The staff member also coordinates any solicitations. When compiling the lists, it is important to ensure that the numbers assigned to staff members are realistic for the effective management of all prospects. A development officer who has no other responsibilities (such as staff management, event planning, or marketing) typically manages a portfolio of 100 to 125 prospect/donor relationships. A new gift officer building a new portfolio (rather than simply inheriting an existing portfolio from another officer) will necessarily have a higher percentage of his/her portfolio devoted to identification than any other category in the initial year.
Board members and volunteers can play a role in engaging prospects, but a staff member should manage the relationship and work in partnership with the volunteer to coordinate activities.
3. Commit to personal visits with donors and prospective major donors.
Organizational leadership and development staff must set aside time for personal visits as a top priority. Engaging major gift donors will require multiple visits, increased overall correspondence, and a focused effort – and will require the leadership and staff to engage donors and prospects in new ways. A full time development officer who has no additional responsibilities should be expected to complete 125 personal visits per year.
4. Meet on a regular basis to review current portfolios and activities.
The development staff should meet frequently, perhaps every other week, to review recent activities and plan out next steps. These regular meetings for reporting and strategizing help to create urgency and hold everyone accountable for their assignments and results.
Follow these four steps and you will be on your way to a systematic approach to building relationships and inviting (and receiving) the major gifts needed to sustain and advance your organization.
For more insights, download our tip sheet on Building a Major Gift Program.