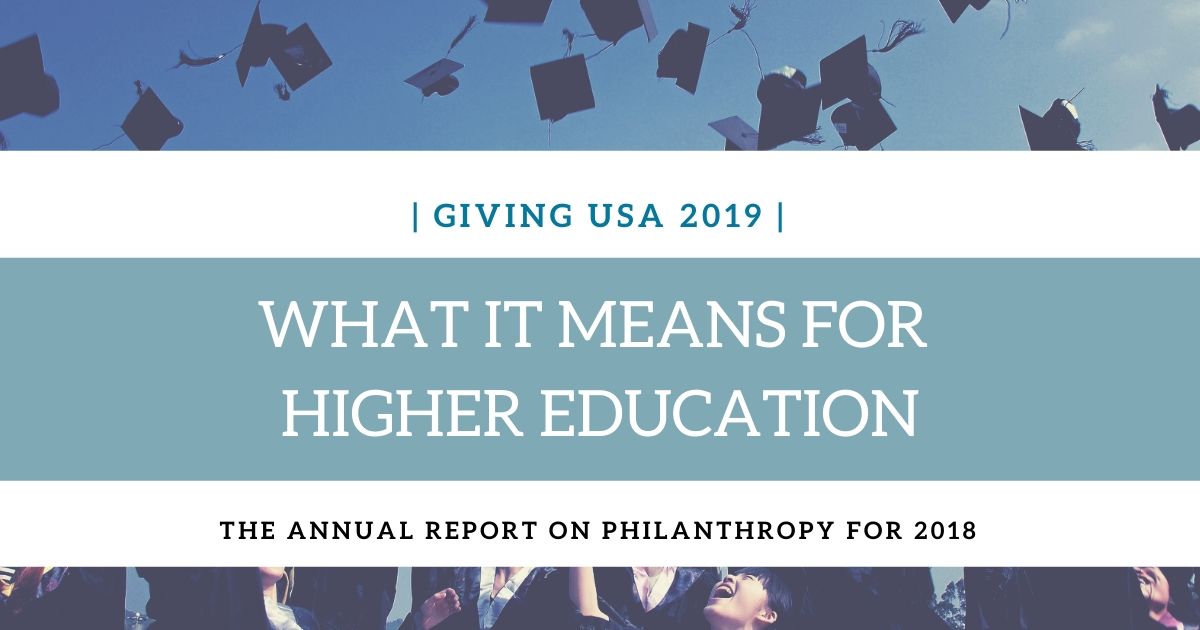 According to Giving USA 2019: The Annual Report on Philanthropy for the Year 2018, American giving reached $427.71 billion in 2018, an increase of 0.7 percent in terms of current dollars but a decline of 1.7 percent from 2017, when adjusted for inflation. Even adjusted for inflation, charitable giving reached its second highest level ever in 2018, second only to 2017. Thus, 2018 is seen as a very strong but complex year in terms of philanthropy.
What this Means for Colleges and Universities:
After four years of consecutive growth, Giving USA estimates that giving to the education sector (which includes colleges, universities, and other educational institutions such as libraries as well as K-12 schools) declined in 2018. Specifically, giving to education organizations totaled an estimated $58.72 billion in 2018 (a decline by 1.3% in current dollars and 3.7% when adjusted for inflation).
However, while giving to education organizations overall fell slightly in 2018, there is some positive news regarding giving to higher education specifically. The Voluntary Support of Education (VSE) survey found that total contributions to higher education reached their highest levels ever in the 2017-2018 academic year. Indeed, VSE found that giving to these institutions was 7.2 percent higher than in the year previous. According to the survey, contributions from all donor types increased with the most notable gains from non-alumni individuals and organizations other than corporations and foundations. Respondents to the VSE survey also reported that giving from donor-advised funds (DAFs) increased 65.8 percent over last year.