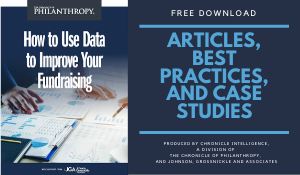 Data plays a vital role in the world of nonprofits. It is a critical tool that helps you make smarter decisions, and it can play a key role in supporting future investment in your efforts.
Your data tells a story that can help you identify key trends as you think towards the future. Sometimes determining what that story says can be a challenge, and it's easy to get overwhelmed by too much data. But with the right guidance, you can quickly gain clarity that can make decision making much easier. For more information on how others are using data in fundraising to achieve results, download our content collection, How to Use Data to Improve Your Fundraising, produced by Chronicle Intelligence, a division of the Chronicle of Philanthropy, in partnership with JGA.
Successful organizations know that it's important to use the data you have to guide decisions that will help you build stronger and deeper relationships with your donors and friends in the most efficient and effective way possible. Many are using that data to guide future investments in fundraising.