The environment for charitable giving was favorable in 2019. Economic strength underpinned very positive giving patterns and precedes potential challenges that may occur in 2020, considering the economic, health, political, and social challenges prevailing to date. However, positive trends in 2019 help establish momentum and a strong base of support to which nonprofits can strive to return.
Giving USA Foundation has released annual estimates of charitable giving for 2019, showing that giving reached more than $449 billion amid a strong economy. Giving USA 2020: The Annual Report on Philanthropy for 2019 reports Americans gave $449.64 billion in 2019. This marks the third year of growth with the highest giving levels ever seen—over $400 billion—driven by individuals as the largest source of charitable gifts. Total giving reflects an increase of 4.2% in current dollars and of 2.4% in inflation-adjusted dollars from 2018. These numbers demonstrate a robust pattern of giving, bolstered by a strong economy.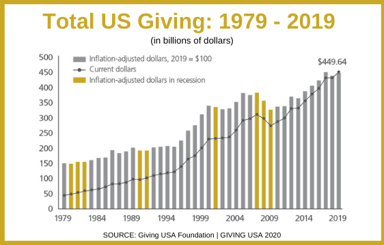 In addition to the impacts of the economy and other challenges this year, political giving trends may be another relevant factor. Historically, political giving represents a low share of all giving and has not had substantial impact on giving across subsectors—so the 2020 election is not anticipated to have a major effect. However, due to high engagement in advocacy, awareness of current issues, and unusual circumstances in 2020, this trend may shift in this election cycle.