Cultivating and Seeking big gifts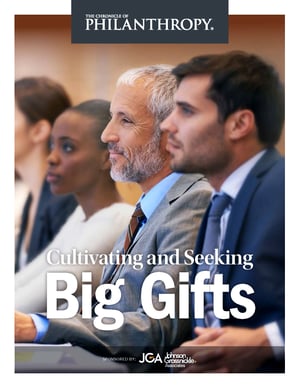 More and more often, a small number of lead gifts determine the ultimate outcome of a campaign or any other major fundraising effort.
As fewer and fewer donors are impacting campaign success, the challenges of attracting lead gift donors remains significant for many organizations.
The landscape for securing large donations from wealthy donors is vast and varied. Top fundraisers are constantly updating their strategies to connect with top philanthropists
Download this article collection produced by Chronicle Intelligence, a division of the Chronicle of Philanthropy, and Johnson, Grossnickle and Associates to learn tips to strengthen your major gifts program.
Articles include:
What You Should – and Shouldn't – Do When Meeting with a Donor
Achieving Alchemy: Sharing Your Vision with Major Gift Donors
Use Meetings with Wealthy Donors to Build Connections
4 Ways to Ask Major Donors for Big Gifts
Building a Successful Major Gift Program
The Art of the Giant Campaign
You Should Ask for an 'Exit Interview' When a Donor Stops Giving: Here's How to Do It