Required Reading for Running a Capital Campaign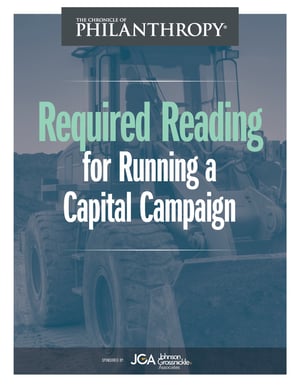 Thoughtful planning for a campaign is more important than it has ever been. There is increasing pressure to establish ambitious goals and meet high expectations.
Download this article collection produced by Chronicle Intelligence, a division of the Chronicle of Philanthropy, and Johnson, Grossnickle and Associates to learn how your organization can set realistic fundraising goals, develop the plans to meet them, and complete a successful campaign.
Articles include:
How Mayo Clinic Raised Nearly $3.8 Billion
How a Nonprofit Motivated Staff to Give to a Capital Campaign
A Community Foundation's Anniversary Campaign Raised More Than $100 Million: Here's How
$500-Million Campaign Reveals New Fundraising Might for National Park Foundation
Five Questions a Feasibility Study Should Answer