leading for change:
hiring the next gen of nonprofit leadership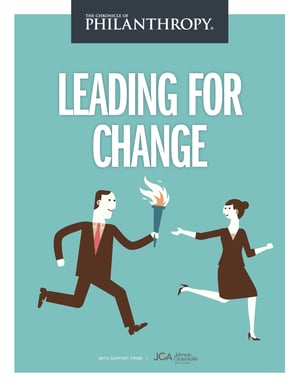 Boomers are moving toward retirement, Generation X is taking on greater leadership roles, and Millennials are accelerating their career development.
As the next generation of leaders are introduced into nonprofit workplaces, they will bring with them new personalities, opportunities, and approaches to fundraising that can become valuable assets to an organization. It's up to current nonprofit leadership to understand the next generation, integrate them into the organization, and tailor their hiring strategies to find the best candidates for their mission.
Download this article collection produced by Chronicle Intelligence, a division of the Chronicle of Philanthropy, and Johnson, Grossnickle and Associates to prepare for the next generation of nonprofit workers and leaders.
Articles include:
Introvert or Extrovert: Who Makes a Better Fundraiser?
Aligning Nonprofit Leadership for Success
How to Interview a Fundraising Job Candidate Who's Not a Fundraiser
How Boards Can Help New Leaders Succeed
Onboarding Crucial to Retain Advancement Staff
12 Questions Job Seekers Should Ask– and Nonprofits Should Be Able to Answer