Thanksgiving is upon us. Is it possible that 2017 is already on the horizon? As we all know, there are twelve months in the year but, when it comes to fundraising, those twelve months are not equal. Is your organization ready for year end? Have you considered the implications of the presidential election upon the financial and philanthropic planning decisions that might be considered by your top donors a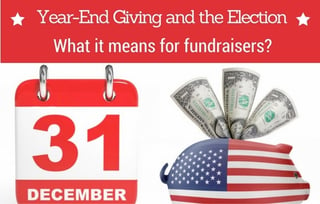 nd their advisors between now and December 31st?
Year-end is prime time for charitable gifts from individuals
For most charitable organizations, the period from Thanksgiving to New Year's Eve is by far the most significant in terms of gift transactions and gift revenue from individuals. Some organizations receive more than 40% of their annual gift revenue during this 5- or 6-week period. Many annual giving donors delay their charitable decision-making until the year-end period. For many donors, this has simply become their habit. I had a conversation recently with a donor on behalf of a JGA client. He mentioned that he puts all the gift solicitations he receives in the fall into a stack. In late December, he returns to the stack and writes all the checks at once. For others, particularly those who itemize their deductions, this is also a question of tax planning. Near the end of the year they are better positioned to know what their taxable income will be for the year and can make charitable gifts in an amount to meet their tax planning needs.
Have you ensured that you will have staff coverage in the development office during this crucial period?
Are you ready to handle the additional transactions from year-end giving in a timely manner?
Year-end is not the best time to expect to have personal visits with donors and prospects
While each donor or prospect is different, for most organizations donors are less receptive to scheduling personal visits during this busy time of year. Donors are spending time with family, completing their holiday shopping, or volunteering with organizations that serve those in need in their community. If you are a front-line fundraiser and you have visit / substantive contact goals that are expressed on an annual basis (for example 150 visits per year), then you will likely be more successful if you divide that goal by 11 rather than 12. If you are lagging in this area and you plan to make up the difference in December, you may be quite disappointed.
Plan to use this time to send hand-written notes to your best donors and prospects.
Send a Thanksgiving card or a thank you card to those who have made a year-end gift.
Make a phone call to thank those who have completed a year-end IRA charitable rollover gift.
For those donors with whom you have a strong relationship, reach out to those who may feel lonely at this time of year. These donors may appreciate that you have remembered them.
Election impact on the planning decisions of high net worth donors
As we consider the results of the 2016 presidential and congressional elections, one area of interest for some of your organization's donors, prospects, and their professional advisors is the likely change to the federal income tax in 2017. Preliminary reports of the early discussions between the presidential transition team and congressional leaders appear to indicate an interest in reducing the top income tax rate from 39.6% down to perhaps 33%. There is also interest in revoking the 3.8% surtax that applies to high-income taxpayers. Although these plans are still in flux and will not be finalized until 2017, your high net worth donors and prospects are likely talking about these developments with their tax attorneys and CPAs. Regardless of the exact final outcome, there will be a general assumption that top tax rates will be lower next year than they are this year. There will be conversations about possible opportunities to defer taxable income to 2017 where feasible in their portfolio of investments.
Income tax rates and the charitable deduction are not reasons for a donor to give to your organization. Nothing is more important than the organization's mission and your ability to describe the impact that a donor will have by investing in that mission. However, for many of your top donors, tax planning does have a tangible effect on the timing and amount of their charitable gifts.
This information may not be the best to include in your broader marketing efforts where references to the election may be polarizing rather than appreciated. Think of your top donors and prospects. The ones you know well and with whom you have a strong relationship. If you have high net worth individuals who are fulfilling large multi-year campaign pledges through their own assets (not from their family foundations or Donor Advised Funds), then they may have a reason to consider accelerating the future pledge payments into 2016. If the top tax rate will be lower in the future, then the tax savings from the charitable deduction would be higher in 2016 than in 2017. Again, this is not a reason for a donor to go from zero conversations about giving to making a new gift but for those who are already giving at a high level they may decide this is a good reason to give more to your organization right now.
This decision is between the donor and the donor's tax advisor. You and your organization should not be involved in providing tax advice. Even if the donor decides not to accelerate her pledge payments after consulting with her advisor, she may be impressed that you thought of her and brought this to her attention. It is this kind of personal attention that can help you build a closer relationship and potentially earn your organization a greater degree of involvement in the larger philanthropic planning discussions that the donor may have in the future.
Use year-end giving activity to build your future planned gift pipeline
As you receive charitable IRA rollover distributions from donors (many of which occur at year-end), be sure to track in your system (or a separate list if necessary) anyone who makes a gift in this manner. These donors can be excellent prospects for longer term planned giving opportunities. Through careful and considerate personal cultivation of these relationships you may find that a number of these donors will decide to also name your organization as a charitable beneficiary of the IRA upon their passing. This is another way to support their favorite causes while saving income taxes at death.
Loyal annual giving donors can also be very good prospects for planned giving. If you have information in your donor database that looks back 10 or even 20 years, then develop a report that notifies you when a donor has made a gift for the 10th (or 20th) consecutive calendar year. Send her a thank you note or call her to thank her for her loyalty. If this is a donor with whom your organization does not yet have a close relationship, this may be a great way to introduce yourself.
For those donors of high net worth, the Great Recession and the associated uncertainty may have led them to make a campaign commitment to your organization through a bequest intention rather than an outright gift. Many of these donors have experienced significant gains in their stock and real estate portfolios since 2010. It is important for an organization to think strategically about its portfolio of planned giving donor relationships. The only way to know which donors might be feeling greater financial security now than they felt at the time of their bequest commitment is to continue meeting with them and to listen. Some of these donors may decide to make outright gifts to fulfill some or all the bequest intention earlier than intended.