What is the impact of philanthropic investments in women and girls? This has been a topic of discussion over the past decade.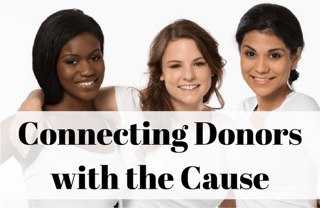 Research tells us that only 7% of all U.S. philanthropy goes to address the needs of women and girls. Yet, we know that when we empower women and girls to realize their full potential, we can create a transformative outcome for them, their families, and our world.
So, why the 7%? And, who is making the investment in women and girls? In May 2016, the IUPUI Women's Philanthropy Institute at the Lilly Family School of Philanthropy released new research on Giving to Women and Girls to provide insights into women's philanthropy and who is funding women's and girls' causes.
Overall, the report found that female respondents are more likely than their male counterparts to support women's and girls' causes and more likely to give larger gifts, but the differences are not as great as might have been expected. The research found that among people giving to charity, 50% of women and 40% of men self-report giving to at least one cause that primarily impacts women and girls. Women are both more likely to give and to give larger amounts to women's and girls' causes. Women are more likely to give to domestic violence organizations, women's centers, LGBT rights, cancer care and research, and economic opportunities for women and girls.
Especially for women donors, a key motivator for supporting women and girls is a personal connection to a charity for either themselves or a family member. These female respondents identified this connection or personal experience as the heart of the reason for their initial gifting or volunteering with an organization. Another key motivator for these female respondents is the issues of women's rights and equality.
This research also found that donors to women's funds specifically did so because they trust the organization and believe in their expertise to allocate grant funds.
So, how does knowing more about who gives to support women and girls help us increase the 7%? The barriers to giving as identified in the report included the complexity of the issues, the scalability of the issues, and the connection to political issues which are often intertwined in women's causes.
I would suggest that we need to tell the story of impact, deepen the connections to the cause, and promote the opportunities to foster healthy, economically viable communities. Your own women's fund is a good place to start!