In this year of a presidential election in the U.S., it is important to think about the intersection of presidential politics and philanthropy. Will donors hold back this year on making major contributions because it is an election year? Will donors wait to see who is elected before investing in important programs? And, just who are these donors anyway?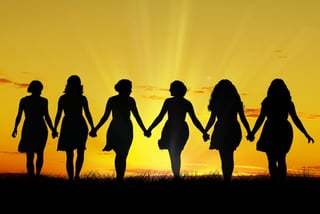 Well, these donors --- and these voters --- are primarily women. It is estimated that 52% of the American electorate is comprised of women and that single women are growing in their share of the vote, surpassing both married men and women. In the donor category, we know that female head of households give more and are more likely to give than their male counterparts in almost every category.
So, what is the intersection of presidential politics and philanthropy? In my own investigation of this question, I found a very interesting story that illustrates the possibilities.
During President Franklin Delano Roosevelt's presidency, he created the National Foundation for Infantile Paralysis as an extension of his Warm Springs Foundation. He created this foundation to fight the disease that he himself was battling. In 1938, the foundation created a national fundraising movement to celebrate President Roosevelt's birthday called "the March of Dimes" which at the time was a play on the title of a popular news series called the March of Time.
This fundraising effort resulted in tens of thousands of letters rolling into the White House, each containing a dime, and led to the foundation's discovery of the Salk vaccine in 1955. Once the Salk vaccine was implemented to cure polio, the foundation focused on the prevention of birth defects which remains its mission today. And, in 1946, the U.S. Government put Franklin Delano Roosevelt's picture on the dime to honor his contributions.
So, what does this story of the founding of the modern era March of Dimes have to do with the Presidential election and women as voters and donors?
Well, it just so happens that there is more to the story -- more about the women of the March of Dimes with Eleanor Roosevelt as the leading lady. While in her role as first lady, Eleanor often address the public on the radio with the President of the March of Dimes, Basil O'Connor and became the editor of a magazine entitled Babies, Just Babies. Eleanor's support of the March of Dimes and her fundraising efforts played a significant role in raising funds that ultimately led to the discovery of a cure for polio and the launch of a new mission to prevent birth defects.
As we move through the 2016 election year, let's not forget the amazing role that women's philanthropy can play in changing lives forever. And, let's not forget the powerful role of women as both donors and voters.
One key to motivate women donors and voters is to tap into their passion. When women feel passionately about a cause, their passion drives them take a cause even farther by becoming an advocate as well. So, as donors, ask yourselves how are you matching your giving to your passion? And for leaders of a nonprofit, what are you doing to communicate your organization's mission in a way that inspires passionate support?
I also challenge you to ask yourself where the intersection of philanthropy and politics happens for you. Will you hold back in your giving during this election year or will you expand your giving to create yet more opportunities to transform lives forever?