In our work with nonprofit clients here at JGA, we frequently interview donors and volunteer leadership. One concern we often hear is that the charity needs to do a better job of telling its story so more donors will support this great organization that they have come to know and love. Storytelling can be a great place for nonprofits to start when it comes to demonstrating their impact in a way that puts a human face on the mission.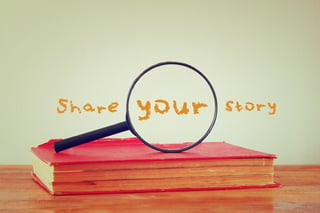 I recently spoke with Kim Jones, Vice President at Willow Marketing, about how organizations can employ storytelling in their nonprofit marketing and development efforts.
Why is it important for nonprofits to communicate impact to their donors? How can storytelling help with fundraising?
Kim -- We've all heard the phrase - people don't donate to causes, they donate to people. We know from considerable research that donors want to make a gift to something about which they are personally passionate. Showing the impact of an organization in a way that relates to the donor and strikes at their heart strings is not only important, but necessary. Making a broad assumption that all donors want to donate for the same "impact" will cause you to miss out on a whole group of potential donors. That's why it is so important before you begin to undertake a nonprofit storytelling project that you gather information on your donors' priorities. This is the first step in knowing what will move them to act. We're strong believers in research before reaching out.
What's a good definition of what you mean by storytelling?
Kim -- Think of storytelling like chapters in a book. Each chapter moves the story forward and engages the reader. Storytelling should be an intentional part of your overall communications strategy, a consistent narrative that helps people to connect themselves to what you do. At its heart, good storytelling involves using words, images, video, and other media tools in a creative and intentional way to convey a story to a specific audience.
Can you share tips to help a nonprofit craft a narrative to show impact from constituents' or donors' stories?
Kim -- Again, we stress gathering input before you begin. Get to know why your volunteers and donors give. What specific thing happened to make Sharon decide to give up her Saturday mornings to come volunteer? Why did Tom decide to include your organization in his planned giving?
Peer-to-peer storytelling lends credibility and builds trust. It is important to tell the story about ONE person. This helps foster a connection. At some point in the story, the donor needs to be able to imagine themselves (or someone they care about) in the story. They need to relate it to their home, family, friends, or neighborhood. That's when the connection to what you do begins to form.
When you're struggling to frame the story, or to choose the right visuals, try thinking through your senses. What does sleeping on the ground smell like? What does a slamming door sound like after the third or fourth try? What would the grass feel like beneath your toes if you had a backyard? Our senses are a great bridge to our emotions. One tip is to create your own "mood board" by starting a private Pinterest page and collecting images and text that inspires you or represents your story. Use this as reference for your team when pulling together story elements.
Do you have tips to help nonprofits gather stories?
Kim -- Be intentional about what kind of story you want to tell. Start with asking yourself what it is you're wanting to communicate and work backwards from there. This will help you keep your focus, talk to the right people, and ask the right questions. Start with the end in mind.
Ask for stories - solicit stories from your donors, members, beneficiaries - they'll be your best source. Also, create a form on your website for people to submit stories. You can even monitor social media for relevant stories.
Be open and aware of opportunities where spontaneous conversations reveal compelling stories. Then make sure you don't lose them. Make a note and follow-up the next day. When you follow up, it's best if you can position these conversation as a chat or a talk. Using the word "interview" can make people nervous. Tell the storyteller how much their story stuck with you and how you think it would resonate with others. If it evoked emotion in you, it's likely to do the same with others. Ask to share it.
How/Where can nonprofits use their stories to show impact? Do they need to adjust the stories to fit the medium?
Kim -- Absolutely consider the medium and how that story will be consumed. A picture and a headline can be as effective at evoking emotion as a four paragraph "testimonial". Live testimonials or videos work great at events. You can also employ visual storytelling for greater impact in social media, email and direct mail donor solicitations, and newsletters. Bring along an iPad or tablet to show videos during donor visits or meetings, this is a great way to arm staff and gift officers with stories that they can share personally with their donors in conversation. And, don't forget the power of an image or picture to convey your message – if you need to show numbers, try an infographic rather than a grid or list.
What are some of the challenges with storytelling?
Kim -- One of the biggest challenges is striking a good balance between telling the story of need, how that need was met, and what work is still to be done. We wouldn't recommend trying to do that all in one story. These three distinct narratives are a part of the overarching story that you tell over time.
But, throughout storytelling there is a need to find balance. Focusing too much on the struggle can cause unease and make it harder to relate; but too many happy endings can make people think you don't need their help. It's tricky, and it's why we advise clients to be strategic about what they're putting out there.
Sticking to your strategy will also be helpful in keeping your story short. This is a must and we know many nonprofits struggle with finding the right balance here as well.
Finally, resist the urge to tell your story with numbers. Statistics don't create empathy. While it may be important to demonstrate the scale of the need, remember that the key to storytelling is connecting with one person at a time. If they feel as though their "small contribution" can't make a dent, they're less likely to give.
What are key elements nonprofits should try to include in their stories?
Kim -- The story has to be personal, featuring real people - real names, real pictures, real words. It has to communicate the individual's "why" - why for giving, why for having a need, why for doing something. People are visual, so imagery is crucial. Not just visual imagery, but also the imagery you can create with fewer, well-crafted words.
It sometimes helps to think about any good story – it has character, conflict, and a resolution (which doesn't always mean a happy ending). Create a desire for the reader/viewer to want to know what's next. Not all stories can be tied up in a bow. Find ways to allow the donor to insert himself into the narrative.
How can a marketing expert help nonprofits as they explore incorporating storytelling into their outreach?
Kim -- Nonprofits are at a clear advantage in this space because they're in the business of creating outcomes that are worthy of storytelling. But we would caution organizations to first identify the organizational story that you're trying to tell, to whom, and why. Again, research before reaching out.
We have a lot of experience helping organizations build that strategy first and then creating that key content. When you understand what the audience perceptions are, what beliefs and biases exist, then you're better able to influence behaviors through storytelling of all kinds.
Most nonprofits, however, don't employ full-time copywriters, designers and videographers. So that's where a nonprofit might find value in reaching out to a marketing firm like ours.