by Angela E. White, CFRE and John T. Keith, J.D.
Happy New Year from JGA! As we ring in 2018, the biggest change in the philanthropic marketplace will be questions about the impact of the new tax law changes.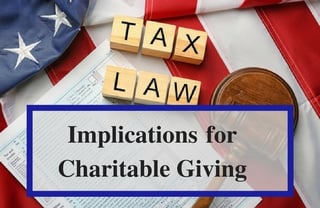 The much-discussed bill is the most significant change to our tax code since 1986. It will take several months for these changes to be implemented, particularly the changes to payroll systems and withholdings, etc. For example, the entire system of claiming personal exemptions on the W-4 will be gone. It seems reasonable to assume that all workers will need new W-4s based on a newly designed form, unless the IRS allows some form of automatic conversion, which is unclear at this moment.
One key point to remember: The changes to the corporate tax system are permanent. In other words, it would take a newly passed law to change it again. However, the changes to individual taxation WILL EXPIRE in 2025. Unless another law is passed by 2025, all of the changes to individual taxes will revert back to 2017 tax law. Will a donor want to set up a multi-year pledge in 2022? Will the donor gamble that the tax law will revert to 2017? Alternatively, will a donor want to accelerate pledge payments and pay off the pledge before the clock strikes midnight in 2025?
Here are highlights that could impact charitable giving:
The standard deduction has been raised to $12,000 per individual and $24,000 for married couples filing jointly. That is nearly double the amount for 2017. The number of people who will be claiming itemized deductions will drop significantly. So, although the charitable deduction has been retained, the number of people who will be able to use it will be much smaller than at any time in this era. Most estimates place the number of taxpayers who will itemize within a range of 5% to 10%. We are entering uncharted territory. Research from the Indiana University Lilly Family School of Philanthropy indicates that those who itemize tend to give much more consistently to charity than those who do not. Donors may continue to give in 2018 in the same pattern that they did previously. The rubber will meet the road in 2019 after donors have filed their 2018 taxes and then see that they cannot deduct their charitable gifts. As these changes become better understood, we may see tax-savvy donors bundle their gifts into a single year to exceed the standard deduction threshold. Some donors may use a similar strategy with a Donor Advised Fund – contributing a lump sum that exceeds the threshold in one year for the tax advantages and spreading out smaller gifts made to charities from the fund in future years.
Charitable gifts to university athletics for the purpose of priority seat location will no longer be deductible in 2018. These gifts have been 80% deductible and now go to 0%. Communication and personal outreach to donors will be important to ensure that they know about this change and feel that their gifts are well stewarded.
The federal estate tax will remain in place, but the number of people who will be taxed by it will be a very small percentage. In 1986, the estate tax exemption amount was raised to $600,000 per person. Meaning that, with planning, the tax would begin for a married couple only if their estate was larger than $1.2 million. This has been raised several times since 2001. Without the new tax law change, the exemption amount for 2018 would have been $5.6 million per person, or $11.2 million for a couple. The new tax law will have an exemption of $11.2 million per person for 2018, so that the tax will begin for a married couple only if their estate is above $22.4 million.
As we assist our donors in their charitable gift planning, it will be important to remember that the individual tax provisions will expire in 2025. As we approach 2025, there will be a category of wealthy donors who will be told by their advisors to place a very high priority on transferring assets to kids / family before the clock strikes midnight and the exemption falls back to the old levels that were in place in 2017. For those who are philanthropically inclined, the use of non-grantor charitable lead trusts could look like a great option at that point. This is a very complicated and rare type of gift, and it tends to appeal to advisors more than their clients, but this is worth keeping on the radar.
Other changes had been considered in early versions of the tax bill but did not remain in the final version. For example, there had been a discussion about eliminating all fair market value charitable deductions based upon appraisals. Gifts of real estate, art, and closely held business interests would have been reduced to cost basis deductions. Thankfully, this was not included in the tax law change.
These significant changes to the tax law will bring about many questions from donors as they consider tax implications as a part of their charitable giving decisions. Investing in the mission of important causes will continue to be driver for charitable giving in America, yet these tax law changes will have implications for how and when gifts are made.