We now hav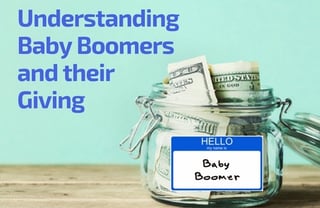 e 5 generations of donors, workers, and volunteers in the philanthropic marketplace:
Gen Z (born after 1995)
Millennials (1981 – 1995)
Gen-X (1965 – 1980)
Boomers (1946 – 1964)
Silent/Greats (born before 1946)
Increased life expectancy, better healthcare, and delayed retirement all contribute to this unprecedented generational diversity.
Why should development professionals pay attention to generational diversity in the philanthropic marketplace? Each generation is influenced by their own economic, social, political, and environmental dynamics as well as collective experiences and different worldviews. These factors inform philanthropic behavior and generational giving preferences and have implications on how we as development professionals build relationships with donors.
Currently, Baby Boomers are the most philanthropically generous generation. Baby Boomer donors give 43% of the collective total of giving in the US, followed by the Silent and Great generation who make up 26% of total giving, with Gen X giving 20%, and Millennials at 11%. Gen Z, our newest and youngest generational segment, is an up and coming generation of donors and specific giving data is not available on them at this time.
Many anticipate Boomer's generosity to grow even greater over the next several years as the oldest Boomers are just now turning 70 and entering peak giving and volunteering years. One study estimates retirees will donate $6.6 trillion in cash and $1.4 trillion in volunteerism in the next 20 years.
So, what motivates Baby Boomers to give and what are their communication styles and preferences?
Let's first define the Baby Boomer generation.
Born 1946 to 1964
AKA: Woodstock Generation
78 million people – second largest generation; recently surpassed by Millennials as the largest generation
Influenced by post-war prosperity, infinite possibilities, rock 'n roll, space exploration, Civil Rights movement, women's liberation, and the Vietnam War
Baby Boomers tend to:
Challenge the rules and status quo
Have a strong work ethic
Have an idealistic and optimistic attitude
Stress fun and enjoyment over duty and obligation
Mix work and personal life ("Live to work")
Want personal satisfaction and external recognition
Place value on the reputation of the nonprofit
The average annual gift from Baby Boomer donors is $1,212 and they support more charities and give almost double what younger generations do.
So how do you engage Boomers?
Multichannel marketing and fundraising approaches are needed for all generations. Vary your approach to your Boomer donors and prospects by incorporating their tendencies and preferences into your communication and fundraising methodologies. For instance, despite what many think, online engagement crosses generational lines. Don't be afraid to engage Boomers online through social media, email, and other tools. As the Next Generation of American Giving explains, "One generalization that deserves to be laid to rest is the notion that digital is for young people and offline engagement is for old people."
Birthdays matter – Unless you know the birthdates of your donors, you will not be able to utilize the information on generational giving preferences. Knowing your donors' birthdates will help you customize your outreach and engagement opportunities. Think of how you can gather donors' birthdates and also how you can store that information and other donor data in a way that makes it easy for you to use it to customize your approach.
Customize your outreach based on what you know about each generation and track results to develop generational-based approaches. For instance, as Boomers are now in or nearing retirement, begin educating them about various planned gift opportunities and estate planning options.
Tailor marketing messages for each generation. Using emotional appeals is important for Boomers and Silent/Great generations. For Millennials and Gen X donors, however, clear examples of impact of gifts are important. One recent study also found that Boomers are 49% more likely than Silent/Greats to research how nonprofits use their money before they donate. The study also found that many Boomers (44%) want to have a say in how their gift will be used.
Understanding generational diversity in the philanthropic marketplace allows development professionals to create deeper and more meaningful relationships with donors. We must be in tune with our donor's interests, preferences, and communication styles to help build donor relationships that create long lasting impact for our organizations.
More generational fundraising articles from JGA: