We have all heard it: fundraising is an art. However, those of us who have been in the field for any length of time know that fundraising is the perfect blend of art – and science. In terms of the science, there is a proven process that works in developing relationships with major donor prospects: identification, qualification, cultivation, solicitation, and stewardship.
The focus of this blog post is the art of donor qualification.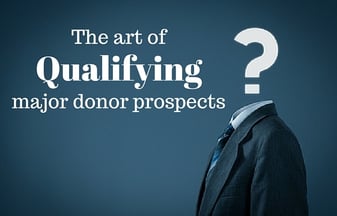 Start with a "suspect," as some of us call them. Uncovered by a prospect researcher or someone you have become aware of them through the local business journal or newspaper or one of the many other ways to identify a major donor prospect.
Now, what do you, in your front-line fundraiser capacity, do with this mysterious new suspect?
You work diligently to get an appointment with them. Don't give up!
You've heard that you should thank a donor seven times for a gift, right? Well, I believe the same is true for attempting to get an appointment; you should have seven attempts at getting an appointment. A nice blend of snail mail, phone calls and emails should do the trick.
But, what if they never call or email you back? Well, you've qualified them for now and have a sense that they are not interested. However, I would put them to the side and check back with them at a later date.
Persistence is key! I have seen a persistent major gift officer turn a moderately engaged donor with great capacity into a $5 million lead gift donor. The process works.
Now that you have gotten the appointment, what do you do during the visit? What questions do you ask? What is the overall tone of the visit? It is, yet again, a nice blend of relationship building along with furthering your organization's knowledge of the prospect.
Weave questions in the conversation that lead you to learning more about:
Business affiliations
Philanthropic interests
Assets – home(s), vacation properties, luxury items, art
Personal family background
Volunteer interests
When the visit is complete send the prospect a follow up thank you and determine what the next steps, if any, should be. You want to come to the conclusion of whether or not the prospect should be in your major donor portfolio.
You also should create a plan to move this prospect from their current status to an engaged, involved donor, determining who should be in the next meeting. Is it you and the CEO or board chair? Or, is there another member of your staff or volunteer corps who you believe would help move the relationship forward.
Qualification is often a missing or overlooked aspect of the process. We want to go straight from identification to the cultivation phase without learning about the prospect, what motivates them and just how interested they are in the organization and its mission.
A good follow up to this blog post is to join JGA for part two of the webinar series, "How to Identify Donors and Strengthen Relationships." Part Two, titled "Strategies for Meaningful Stewardship and Outlining Fundraising Roles for Staff, Board and Volunteers" will be held on September 24, 2015, from Noon to 1 p.m. EDT. Register today!
If you missed Part One of the series, "Strategies for Donor Identification, Qualification, Cultivation and Solicitation," you can watch a recording of the webinar and email me to request a copy of the slides.