"Why don't we give money to the Church any more, mom?," was the question from my then ten-year-old son one Sunday morning. I realized that he had stopped seeing my husband and me put the envelope in the collection basket, as we had done for as long as he could remember.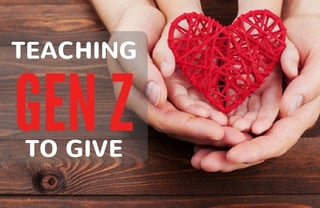 Well, of course we had not stopped giving to our Church but rather had moved to a more convenient and consistent method of giving that was encouraged by our parish…. online giving. Online giving ensures a weekly collection regardless of travel or forgetting the envelope at home, yet it takes away a very important symbol of giving: the physical habit of placing the envelope in the basket for all to see.
As I began to ponder my son's question and the need to model philanthropy for our children, it occurred to me that other traditional ways of symbolizing giving may also be on the decline. Take for instance the act of a family sitting down to dinner together each night and sharing stories of the day and discussing common values or experiences. Or, examine the important role of membership organizations such as the Girl Scouts, Boy Scouts, etc., that teach our children to give via community engagement and service projects.
Busy schedules and competing activities have eroded our time together at the dinner table and/or the time spent in membership organizations. So, if our children are not seeing us give to charity or experiencing it via other avenues, how is Generation Z learning to give?
Generation Z, also known as Post-Millennials or the Homeland Generation, refers to individuals born between 1996 and 2010. These individuals are characterized as master multi-tasker's, shifting between fun and work and doing it all while managing multiple distractions. They are opting out of college at higher levels and are very entrepreneurial and global.
So, how will Gen Z form their own generational giving patterns and learn the philanthropic values that have traditionally passed from generation to generation? I believe they will learn to give through more structured philanthropic education programs and intentional family conversations.
One excellent example of a philanthropic education program is GO: Give Back philanthropic education program of Women's Fund of Central Indiana. GO: Give Back provides the philanthropic tools to children to contribute to their community, now and into the future. In addition to philanthropic educational programming, you can explore ideas to foster intentional family conversations about philanthropy, I recommend reading this Wall Street Journal article. The article talks about engaging our children in conversations about philanthropy at the age when they are able to help another person by volunteering. Research shows that this early engagement is key to establishing lifelong philanthropic values.
So, back to my son's question about why we weren't contributing to our Church anymore. It appears that in today's cluttered, multi-tasking society, it is more important than ever to be intentional, both at home and within our community programs, to pass down our philanthropic values to our children. It is not easy, but it is worth it!
Read other articles from JGA on generational giving preferences: