Are young donors today as generous as previous generations?
For young, single women, the answer is yes. Single men and married couples, however appear to be lagging behind their counterparts from 40 years ago.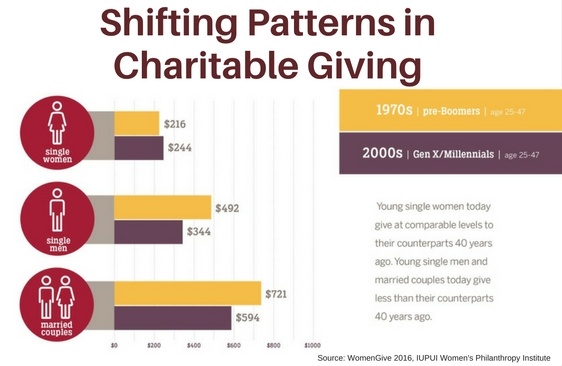 These results come from the Women Give 2016 report, which sought to identify how demographic changes over the last four decades have impacted giving and decision making by different groups of donors at the same points in their lives. To do this, the report examined giving by single men, single women, and married couples in the 1970s versus today. The researchers divided the groups into two demographic segments, pre-Boomers, age 25 – 47 in 1973, and Gen X/Millennials, ages 25 – 47 from 2000 to 2012, and compared results from the 1974 National Study of Philanthropy and the Philanthropy Panel Study from 2013.
The researchers from the Women's Philanthropy Institute at the Indiana University Lilly Family School of Philanthropy particularly wanted to examine how significant demographic changes have transformed American families and may have impacted the role of women in giving and decision making.
Since the 1970's, the percentage of single-headed households has increased almost two-fold and the percent of adults married or co-habiting has decreased by half, with both men and women delaying marriage. Women have become an important sector in the labor force, increasing their labor force participation from 43% in 1970 to 55.8% in 2014. As their role in earning income for the household has increased, so has their influence over how that money is spent, often increasing their role in financial decision-making for goods and services as well as charitable giving.
"Women's changing roles within society and within the family have implications for philanthropy," explains Debra Mesch, Ph.D. and director of the Women's Philanthropy Institute and Eileen Lamb O'Gara Chair in Women's Philanthropy at the Lilly Family School of Philanthropy.
So, what are those implications? Here are some key findings from the report:
Young single women today give at comparable levels to their counterparts 40 years ago – an average of $216 from pre-Boomers, age 25-47 in the 1970's, compared to an average of $244 for Gen X or Millennials.
Young single men and married couples today, however, give less than their counterparts 40 years ago – pre-Boomer single men gave $492 in the 1970's but today's Gen X/Millennials gave only $344 on average. And, pre-Boomer married couples average giving was $721, compared to $594 for Gen X/Millennial couples.
Young married women today have more influence on decisions about giving than their pre-Boomer counterparts 40 years ago. Only 73% of giving decisions were "woman-influenced" in the 1970's, compared to 84% of giving decisions among Gen X/Millennials.
However, in young married couples where the woman influenced the decision, today's Gen X/Millennial couples gave higher amounts than their counterparts 40 years ago. A pre-Boomer couple making a woman-influenced decision to give would give an average of $986, but today's Gen X/Millennial women-influenced couples give an average of $1,385.
This study is the latest to show the important role of women donors in philanthropy. It also emphasizes a basic truth, that there is no one-size-fits-all approach to fundraising. Nonprofits need to approach donors individually and understand their personal motivations for giving by building relationships with their supporters.
Read more posts on Women's Philanthropy: