Charitable organizations received an early holiday present last Friday when the President signed the Protecting Americans from Tax Hikes Act of 2015 into law. Among its provisions was a renewal of the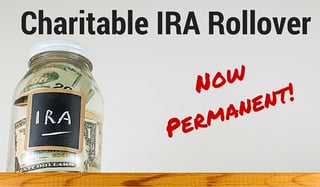 charitable IRA rollover opportunity for donors who are past age 70 ½. Although the IRA rollover has been caught in a seemingly endless cycle of expiration and reinstatement since its inception in 2006, what makes this renewal special is that this time it finally carries no built-in expiration date.
Why would a donor support your organization through a tax-free charitable IRA rollover?
Some donors have saved for retirement for years through IRA accounts and then, upon retirement, they discover that they don't yet need the IRA. Given a choice, these donors would simply allow their IRA funds to stay in the account and continue to grow for the future; however, IRA owners are required to begin taking minimum withdrawals after age 70 ½.
The charitable IRA rollover allows such donors to make charitable gifts directly from their IRAs to your organization. The amount that is sent directly to charitable organizations counts toward their Required Minimum Distribution for the year as if they had received it themselves, but because the funds went to charitable organizations, the donor pays no income tax. This is a great way for your donors to support your mission while saving income taxes.
Some donors no longer claim itemized deductions on their federal tax return, because they have paid off their home mortgage or they have downsized to an apartment. When they write you a check they are often receiving no tax benefit for their gifts. With the IRA rollover option, they can make the same (or larger) gift and receive tax savings by avoiding the income tax they would have paid.
Quick review
Let's review the basics. These aspects of the charitable IRA rollover remain the same.
The rollover is available only from IRA accounts. This cannot be done directly from other retirement accounts such as a 401(k) or 403(b) accounts. (Some donors may be able to complete a two-step process by making tax-free rollover from these accounts into an IRA and then make an IRA rollover gift from that new account).
The donor must have reached age 70 ½.
Each individual donor can make IRA rollover gifts of up to $100,000 per year (which can be to one charitable organization or divided and distributed to many charitable organizations). Married couples can each give up to $100,000 so long as they each have IRA accounts.
Rollover gifts cannot be used to fund charitable gift annuities or charitable remainder trusts. They also cannot be transferred to donor advised funds.
The donor cannot receive any value in return for the gift. For example, some alumni associations accept donations that include a subscription to the alumni magazine. They report back to the donor a reduced charitable gift value that has been discounted by the value of the subscription. The IRA rollover should not be used to fund such gifts.
What is new this time?
The charitable IRA rollover has been in limbo from its beginnings in 2006. Every time it has been renewed there has been a new expiration date in the legislation. The renewals come as a sudden surprise in mid to late December and often expire right away again on December 31st a few days later. As a result, donors and their advisors have not been able to make mid to long term philanthropic and tax planning decisions that included this gift option. Additionally, charitable organizations could not incorporate this gift idea easily into their marketing plans.
The big news with this renewal is that it is permanent this time. There is no built-in expiration. It will now be in place unless Congress and the President decide to actively revoke it at some point in the future.
What action should your organization take?
Right now. It may be difficult to promote this gift option for the remaining days in 2015 and many donors may have already taken their taxable mandatory withdrawals for the year. Focus on the simple things. Update your website with information about the charitable IRA rollover and send an email. If you can easily sort the email list by age then go ahead and focus upon those in the right age range for this gift option. If that is too time consuming on short notice, then send the email to a larger audience, but make it clear that your intent is for those who are too young to help you get the word out to those in their circle of family and friends who are the right age.
For 2016 and beyond. Add this gift option to your marketing plans going forward. Be sure to include it in both your annual giving materials and your gift planning materials.
Also, be sure to track in your system (or a separate list if necessary) anyone who makes a gift to your organization through a charitable IRA rollover. What have these donors communicated to you by making this gift?
They have an IRA but they don't really need all of the spendable income from it in retirement. That is the primary reason for having an IRA and they don't need it.
Out of the universe of charitable organizations available to them, they have chosen you to receive this gift.
They are 70 ½ or older.
Let's face it, these are excellent planned giving prospects. An IRA account is a great way to save for retirement and defer taxes. It is not a great way to transfer assets to kids or grandkids upon death.. Through careful and considerate personal cultivation of these relationships, you may find that a number of these donors will decide to also name your organization as a charitable beneficiary of the IRA upon death. This is another way to support their favorite causes while saving income taxes at death.
Join Our Upcoming Planned Giving Webinar
Want to learn best practices for integrating planned gifts throughout your development program? Join us January 20th for our next webinar.
Several generational, demographic, and financial trends are converging on philanthropy. This convergence requires us to respond with a donor-centered fundraising approach that integrates annual, major, and planned giving.
Learn the fundamentals and best practices for incorporating planned gifts into your existing development plan, including:
Identify opportunities to integrate planned giving and the importance of establishing a planned giving strategy for your organization
Identify planned giving prospects in your major gift and annual donor pipelines
Incorporate planned gifts into your marketing strategies
Strengthen legacy societies