Over the years, we have all seen gimmicks promising to be the "silver bullet" in fundraising. However, there are no new quick solutions to solve your fundraising problems. Successful fundraising takes the right blend of art and science that matures over time with persistence and planning. In short, it's matching the right person with the right cause and then growing that relationship.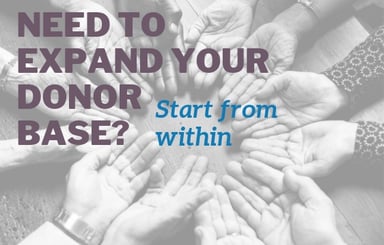 Organization's are often looking for a "quick fix" to expand their donor base and grow their pipeline of future donors. A question we get often at JGA is "What can we do to grow the number of donors and prospects to the organization?"
I usually answer that question by stressing that an organization's best donors and prospects are likely already in their database. You should maximize every opportunity to grow relationships with those people first! So, who are they and how do you identify them?
Here are a few categories to get you started:
Lapsed donors– both recently lapsed donors and those who haven't made a gift in many years;
Former board members;
Volunteers – this oft overlooked group of potential donors are people who care deeply about your organization and are very engaged. Don't fall into the trap of thinking that since they give of their "time and talent," they aren't interested in giving their "treasure."
People or organizations who are connected to the people who benefit from your organization's services;
Current and former built-in constituencies like members, alumni, auxiliary board/group members, etc.; and
Special event attendees.
It's more likely and cost effective to attract (or recapture) donors who have a connection to your mission than it is to find completely new ones. Think of it like this, attracting financial support from people who already know your organization and believe in its work is like putting two magnets together. Trying to garner the support of people with no connection or interest in your organization takes longer and is more expensive.
However, when you have exhausted your options from within your current database and still need to grow your donor and prospect pool, there are steps you can take to acquire new donors.

Remember, your best donor prospects are people who have the greatest financial capacity to make a gift and those who have the greatest interest in your organization or cause. As fundraisers, we have absolutely no control over the capacity of a prospect, but we do have some control over their interest or connection to your mission. Logic tells us the "warmer" the prospect the easier it will be to grow their love of your organization.
To uncover these "warm" prospects, use a simple spider chart with your board, staff, volunteers, and close donors to identify a list of people they know who might connect to your mission. The list should include friends, business connections, and family, etc. The people from within their own networks that fit into the categories of the diagram, can help fill out your donor base.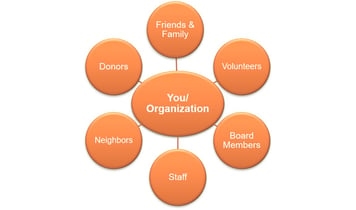 Additionally, ask a volunteer or staff member to scan newspapers, business journals, industry publications, directories, other non-profit annual reports to help identify potential donors. Look for people with similar characteristics of the donors who already support your organization. When they are identified, make a plan and list the steps you need to take to engage them in your organization's mission.
Also, don't forget about your vendors! Think of the people you and other colleagues interact with who always compliment the work of your organization. How might you engage them and ultimately the companies they represent to become supporters of the mission?
The most effective way to grow these relationships is through face-to-face connections with volunteers and staff members. When that is not possible or you have a limited number of people to build these relationships, use methodologies that are the most personalized – think phone calls, hand-written notes, direct emails or letters, small group events when you ask them to come together to learn about the organization. Try to avoid non-personalized bulk mail and "Dear Friend" kinds of approaches.
In closing, think about the analogy of peeling away the layers of an onion. Start from within and work your way out. Use the most personable methodologies within your organization's capacity. By doing so, you increase your likelihood for success exponentially and you tackle the issue in a way that's been proven to work time and time again.