Looking for strategies to identify major gift donors? We've asked Bill Tedesco with DonorSearch to provide some insights and he shares that prospect research is a great place to start.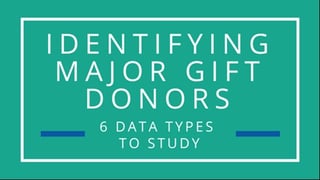 It's important to put in the time to properly research your major donor prospects and build out complete and informative donor profiles. You'll situate your team for greater fundraising efficiency once they get into the nitty­gritty of the major gift cultivation, solicitation, and stewardship processes.
From something as specific as aiming to raise 60% of your goal during the quiet phase of your capital campaign to the broader goal of growing your major gift prospect pool, it's paramount that you begin your search with prospect identification. And identification begins with the data.
For major gifts in particular, you'll want to zero in on the following data types:
Past Giving to Nonprofits
Prior Donations to Your Organization
Involvement in Nonprofits
Real Estate Ownership
Political Giving
Business Affiliations
We'll cover the value of each data point in­depth below; feel free to jump ahead to gain insights into a particular section.
1. Past Giving to Nonprofits
Past giving is the greatest indicator of future giving. Curious how I know? Take a look at these statistics (and learn more by visiting DonorSearch's major gift guide).
Individuals who have donated:
$100,000+ to nonprofits are 32 times more likely to make a charitable donation
$50,000 — $100,000 are 25 times more likely to make a charitable donation
$10,000 — $25,000 are 10 times more likely to make a charitable donation
$5,000 — $10,000 are 5 times more likely to make a charitable donation
Now that we've shown the data, let's explore the logic behind it.
When you're researching major gift donors, you're looking for two key characteristics:

The willingness to
The financial capacity to do so.
By analyzing a prospect's past giving to nonprofits, you'll get a good sense for both.
First, you'll be able to pick out just how committed to philanthropy they are. Someone who has given multiple gifts to numerous organizations throughout the years is clearly interested in making charitable donations in the future.
Second, by studying how much they've given, you'll be able to better gauge where your prospects fall in the major gift capacity spectrum. Chances are, if someone has made a large contribution to another organization, they're capable of doing the same with yours.
Additionally, the more in line the other organization's mission and work is with yours, the more likely that person is to donate. For instance, if your university is organizing a capital campaign to build a state­of­the­art engineering lab and your prospect has given to education­related (particularly math and science) nonprofits, you can leverage that tie.
As you can see, the range of benefits afforded to organizations by past giving data is broad and far­reaching.
2. Prior Donations to Your Organization
Given the predictive value in understanding someone's giving habits outside the scope of your organization, it's clear why past giving to your specific organization is such a predictive game changer. Not only do these prospects have a strong history of charitable giving, but they also have an explicit connection to your organization.
You can further investigate and evaluate the likelihood of one of your existing donors upgrading to major gifts through an RFM analysis. An RFM analysis compiles the data that's most closely linked to future giving and compares prospects accordingly.
The three criteria for RFM scores are as follows:

Recency of giving: How long ago did the donor make their last contribution?
Frequency of giving: How often do they usually give?
Monetary contribution: How much have they given?
Your fundraising software should be helping you keep track of all this data, so that when the time comes to check out your RFM score, the necessary details are all within your database. By considering all three factors in conjunction, your nonprofit will be able to see who among your annual fund donors is a good candidate for major giving.
3. Involvement in Nonprofits
To step away from strictly talking about donations, it's also important to consider a prospect's other involvement in philanthropic work, such as volunteering. Although involvement does not have as direct a correlation to future giving as past giving, it's still demonstrative of a prospect's tie to and understanding of philanthropy.
A prospect who is actively involved in philanthropic work already has a foundational knowledge of the work you're doing and can often readily grasp the positive impact their donation can have. A prospect who holds a board seat at another nonprofit, for example, has already sat in on the kinds of discussions you're likely having as you map out your major gift efforts.
Your frontline fundraisers will still have to practice superior cultivation and solicitation strategies, but they don't have to feel like they're starting from zero. By approaching prospects who immediately get what you're doing, you can remove some of the earliest barriers to effective cultivation and communication, bringing you one step closer to a successful ask.
4. Real Estate Ownership
Real estate ownership is an incredibly valuable data point for nonprofits actively seeking major gifts because it speaks to both philanthropy and wealth.
Through in­-depth research, DonorSearch found that an individual who owns $2+ million in real estate is 17 times more likely to make a charitable donation than the average person is. And if you have a donor's list of addresses, you can easily estimate property value for their real estate using sites like Zillow and the county tax assessor.
Plus, as an added bonus, if you're trying to make an educated guess as to the prospect's net worth for research purposes, there are formulas you can use to do so. For example, if you look into current reports on the relationship between total wealth and real estate, you should be able to ascertain the estimated percentage of total wealth that real estate holdings combine to form. With that percentage, you can solve for total wealth. So, if real estate is known to be 20% of total wealth, your formula would be:
Sum of Real Estate Holdings x 5 = Total Wealth
This calculation is helpful in assessing giving capacity, and by extension, major giving propensity. In other words, if your development assessment shows that you need major giving improvements, you should start focusing on real estate holdings.
5. Political Giving
A political gift of just $500 makes someone 5 times more likely to make a charitable donation than the average prospect.
Political giving is an impactful data type for two key reasons:

Like with other types of past giving, political giving will give you an idea of how much a prospect is capable of
Political donors are people of When they care about a cause, they act. It's up to your organization to effectively tell your story and sway their opinion.
And, as an added bonus, you can find political giving data on your prospects for free using the FEC's searchable database.
6. Business Affiliations
From a wealth standpoint, knowledge of a prospect's business accolades can help you better grasp their financial situation.
Based on that angle alone, current job and employment history is a good data field to round out your donor profiles.
However, there's another reason why business affiliations were included on this list. And it's admittedly slightly tangential to their use in identifying major gift donors. Rather, business affiliations are an excellent way to meet new donors.
Leverage your business affiliation research to discover who among your contacts has an existing relationship with your top candidates. When it comes to building relationships with major gift donors, every little bit helps.
If you can have a mutual contact introduce your major gift officer to your prospect, it's a great way to get your organization's foot in the door so to speak. The introduction itself vets your nonprofit in the eyes of the prospect and helps you establish trust right away. Ask your mutual contact to join you for an exploratory lunch. Or, draft a fundraising letter template that your contact can customize to send out as a means of introduction, for example.
Between enabling your nonprofit to delve further into donor wealth and assisting in the actual fundraising process, business affiliations are a one­-stop­ shop for nonprofits soliciting major gifts.
In order to properly solicit major gifts, you'll have to embark on a more involved process that is centered around donor relationships and cultivation. You can't simply direct your major donors to an online donation page (although they certainly have their place in your fundraising practices) and call it a day.
You need to take great care to cultivate your relationship with the donor, plot out an exact strategy for solicitation, and follow up with exemplary stewardship practices.
But before you even get to cultivation, you have to find your prospects first, and to find them, you need data (like the points above). So go forth and do your donor research; major giving success is just around the corner!