Giving USA released its annual estimates of U.S. charitable giving today, and the results show impressive growth despite a shifting national landscape. Giving USA 2018: The Annual Report on Philanthropy for the Year 2017 reports that total charitable giving in our nation reached $410.02 billion in 2017, an increase of 5.2 percent over 2016. This total breaks the lofty $400 billion mark and is the highest in the history of Giving USA, which began tracking this data more than 40 years ago.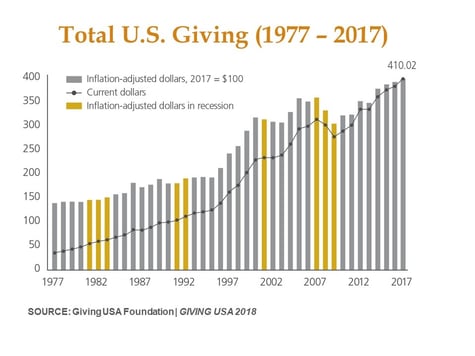 Published by Giving USA Foundation, a public service initiative of The Giving Institute, Giving USA is the longest running and most comprehensive report of its kind in America. It is researched and created by the Indiana University Lilly Family School of Philanthropy.
All but one of the nine major categories of charitable organizations realized growth in giving. (International affairs saw a decrease of 4.4%.) Amid new national leadership, numerous national disasters, and the uncertain impact of tax law changes in December, Americans gave. This positive growth trend was fueled by a strong economy and an increase in personal consumption (4.5%)—the strongest indicator of individual giving.
Individuals continue to be the largest source of charitable giving, providing 70% of total contributions. When family foundations and bequests are added, giving by individuals amounts to 86% of total giving. With strong growth at 5.2% (3% when adjusted for inflation), individual giving continues to demand close attention. However, though giving by individuals increased for the fourth consecutive year, the dollars are coming from fewer donors. Several gifts from high net worth donors accounted for part of this equation, but the continued decline in number of donors is concerning and may indicate needed changes in approach for some sectors.
Growing confidence in the economy and a strong labor market seemed to boost giving in general. There are likely still some rage donations occurring in response to controversial policy decisions—and certainly there is much speculation on the effect on philanthropy of the new tax legislation passed in December 2017. With further legislation in the works, including the Charitable Giving Tax Deduction Act, it is hard to predict what impact tax law changes will have on giving for the coming year.
Patrick M. Rooney, Ph.D., Executive Associate Dean for Academic Affairs at the Indiana University Lilly Family School of Philanthropy notes, "While it is too soon to know with certainty how recent policy changes may influence when and how much donors give, what is certain is that cultivating and nurturing strong, ongoing relationships with donors will only become more important as the changes to federal tax policy made at the end of 2017 take effect."
Corporate giving grew an impressive 8%, buoyed in part by giving to disaster relief in a record-breaking year that included Hurricanes Harvey, Irma, and Maria, as well as numerous western wildfires, to name a few. Giving by corporations is linked to pre-tax profits and tends to fluctuate accordingly. The decreased corporate tax rate enacted in late 2017 will likely have a positive impact on giving, creating more available funds for potential philanthropic purposes.
In terms of recipients of charitable dollars, giving to foundations increased the most of any subsector—an impressive 15.5%—which was attributed partly to several mega-gifts to family foundations and strong stock market performance. Organizations in the arts, culture, and humanities, public-society benefit, and health also experienced significant growth, with 8.7%, 7.8%, 7.3% increases in giving, respectively, from 2016 to 2017.
Also posting impressive increases, education saw strong growth at 6.2%, up from 3.6% growth in 2016, and human services recorded an increase of 5.1%. The only subsector to decrease in 2017 was international affairs, which typically attracts significant dollars for disaster relief that likely were displaced by the numerous disasters in the U.S. this year.
The explosive growth of donor-advised funds (DAF) is having its own impact across all subsectors, though education, public society benefit, and religion receive the most grant dollars from these funds. Transparency is becoming ever more important for nonprofit organizations, as donor-advised funds research each organization before grants are disbursed. Nonprofits must be aware of DAFs and their growing presence across all subsectors and be proactive in identifying and connecting with DAF donors—this is still where relationships are built. The continued importance of individual donors cannot be emphasized enough.
What does all this mean for future nonprofit fundraising? The strong economy is certainly influencing giving, but unpredictable policy changes, including tax legislation, will likely impact philanthropic decisions in the coming year. Americans continue to give generously, and research indicates that donors are maturing in the sense of doing their homework on their philanthropic choices as well as taking advantage of new technologies and giving vehicles such as donor-advised funds.
We encourage you to download a free copy of the Giving USA 2017 infographic or order your full copy of the report at givingusa.org.