According to Giving USA 2018: The Annual Report on Philanthropy for the Year 2017, total charitable giving in the United States grew by 5.2 percent to $410.02 billion in 2017. This marks the highest total amount given in the 40 years Giving USA has tracked this data, both in current dollars and when adjusted for inflation.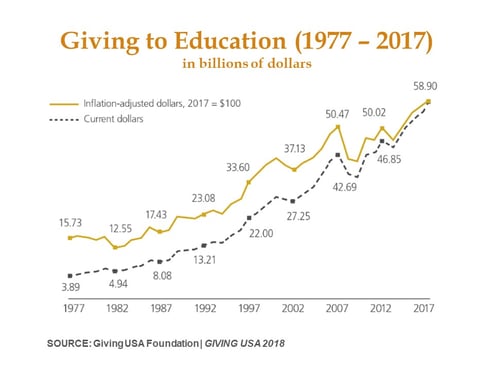 With this milestone year, U.S. giving continues a steady growth trend over the past eight years, indicating a positive climate for philanthropy. Giving to every category of recipient organizations increased when measured in current dollars, except for international affairs, which dropped by 4.4 percent.
What this Means for Colleges and Universities:
Giving USA estimates that giving to education organizations (of which giving to higher education typically accounts for about 70 percent of the total) increased 6.2 percent in 2017 to $58.9 billion. The Council for Aid to Education's Voluntary Support of Education (VSE) survey shows that individual giving (alumni and non-alumni) to higher education increased by 6.3 percent, a strong rebound from 2016, with alumni contributions growing by a significant 14.5 percent, foundations by 5.5 percent, and corporations holding steady at the 2016 level.
According to the VSE study, alumni giving accounted for 26.1 percent of total giving to higher education institutions in 2017, a slightly larger proportion than the previous year. However, this decline comes on the heels of extraordinary growth in individual giving in 2015 (10.2 percent from alumni and 23.1 percent from non-alumni).
High-net-worth donors continue to give priority to giving to education. The Chronicle of Philanthropy reports that its Philanthropy 50—America's 50 wealthiest donors—supported colleges and universities to the tune of $1.8 billion in 2017, second only to foundations at $9.1 billion.
Suggested steps for maximizing fundraising for colleges and universities within this context include:
Know your donors' interests. Donors are becoming more and more educated and discerning about the causes they support, making the appeal more challenging. Your relationships with major gift donors remain extremely important, as individuals remain the largest source of giving to education. Nurture your relationships with donors and align your case for support with their motivations, emphasizing the significant impact of their philanthropic gifts.
Pay close attention to your online presence and outreach. Higher education institutions experienced a 13.4 percent growth in online giving in 2017, continuing double-digit growth over the past three years. This continuous and substantial growth indicates that online giving has become an accepted and increasingly preferred method of giving to higher education; in fact, the institutions analyzed by the Blackbaud Index saw the greatest increase of any sector in 2017. Keeping abreast of innovative ways to use technology to reach, inform, and encourage donors to give will continue to be an important aspect of donor relationships.

Stay abreast of changing tax legislation. Being informed about adjustments to tax laws is increasingly important in the current climate of change, and donors will appreciate your help in navigating this landscape. No one can predict the impact of the 2017 legislation or any upcoming changes but working closely with donors who may want to adjust their giving priorities will be important.
Connect with donor-advised fund (DAF) donors. Donor-advised funds are one of the fastest-growing giving vehicles in the U.S., and the education sector receives more grants from DAFs than any other sector. As more donors choose to give this way, transparency is becoming more important for nonprofit organizations, as donor-advised funds research each organization prior to granting funds. But keep in mind that the ultimate giving decisions are still up to the individual donor, which confirms the continuing importance of those relationships.
Source: Giving USA 2018: The Annual Report on Philanthropy for the Year 2017, published by Giving USA Foundation, a public service initiative of The Giving Institute, researched and written by the Indiana University Lilly Family School of Philanthropy.