Giving USA is a valuable resource for nonprofits, providing not only a snapshot on giving for the last year, but additional insight into longitudinal trends and sector-specific giving. We've taken a look at implications for higher education nonprofits a few weeks ago and now would like to share with you some insights on trends uncovered in the data on healthcare philanthropy.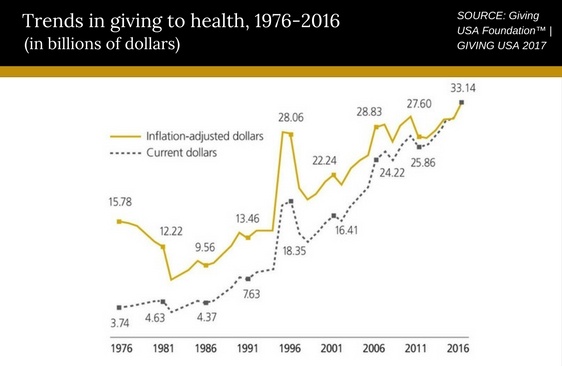 Overall Giving in 2016
To recap, according to Giving USA 2017: The Annual Report on Philanthropy for the Year 2016, total charitable giving in the United States grew by 2.7 percent in current dollars to $390.05 billion in 2016. This marks the highest total amount given in over 40 years, both in current dollars and when adjusted for inflation.
After weathering the recession's effects on the economy and philanthropy, data shows that the past seven years have recovered steadily, though not without some turbulence. The same can be said of 2016, with good overall growth despite the uncertainty of a presidential election year and a volatile stock market. Giving to every category of recipient organizations increased when measured in current dollars, and all but three exceeded their previous high marks. Four different subsectors (health; arts, culture, and humanities; environment/animals; and international affairs) saw growth of 5.7 percent or more over the previous year. Giving by the primary sources of philanthropic dollars – foundations, corporations, individuals, and charitable bequests – increased by 3.5 percent or more, except for bequests, which saw a decline of 9 percent.
This increase in giving continued a positive seven-year trend, but growth in 2016 is considered moderate overall. It is encouraging that giving continues to increase in the face of an evolving national economic and political climate. Specific sectors have reacted significantly to the uncertain times, such as international affairs and environment/animals, which saw significant growth in giving of 5.8 and 7.2 percent, respectively. Health (5.7 percent) and the arts, culture, and humanities (6.4 percent) subsectors also saw strong growth in 2016. Anecdotal evidence suggests that growth in certain sectors may have resulted from "rage donations," defined as donations motivated by a frustrated reaction of some donors in response to post-election policy changes.
What this Means for Health Organizations:
The good news for health organizations is that the $33.14 billion dollars given in healthcare philanthropy in 2016 is the highest amount that the subsector has ever received in both current and inflation-adjusted terms, surpassing the previous year's high of $31.74 billion. Although healthcare fundraising has increased each of the last five years, in comparison to other subsectors of recipient organizations growth during that five-year period has been rather unremarkable, until 2016.
The health subsector showed strong improvement in 2016 from its relatively flat growth in 2015, increasing 5.7%; which places the subsector in fourth place out of nine measured. Since the end of the economic downturn in 2009, health organizations have struggled to combat the effects of donor uncertainty regarding the Affordable Care Act (ACA), which continues to be a factor as an impending replacement of the ACA continues to be debated by Congress.
Many large gifts to health in 2016 focused on medical research, most supporting collaborative efforts between multiple entities. These major donors appear to be interested in efforts that will drive systemic change—perhaps in an accelerated manner—through partnerships.
Suggested steps for improved fundraising results for health organizations:
Invest in your major gifts program. Individuals remain the largest source of contributions at 72 percent of total giving. In addition, 91 percent of high net worth individuals contributed to charitable causes in 2016, according to the 2016 U.S. Trust Study of High Net Worth Philanthropy. Keep in mind that these donors support multiple causes, 40 percent gave to health-related organizations, which ranked third behind basic needs (63 percent) and religion (50 percent). Purposeful cultivation of major gift prospects can tap their desire to support healthcare and help them understand the importance of their gifts in a confusing climate.
Clearly and simply articulate your goals. With all the confusing information circulating about healthcare nationally, it is very important to be as transparent as possible with your message. Provide donors with basic but compelling points that they can understand and illustrate the potential impact of their support with compelling language and real-life examples when possible.
Continue to encourage online giving. Technology is changing how organizations engage with donors, and online giving continues to grow. The Blackbaud Index sample of healthcare organizations showed an increase of nearly 12 percent in online giving from 2015 to 2016. Though other sectors may enjoy a higher percentage of online giving according to Blackbaud's 2016 Charitable Giving Report (healthcare is in the lower third at 5.4 percent), it continues to be an important—and growing—source of giving for healthcare organizations that should be cultivated. Keep in mind that more sophisticated applications are constantly being developed and donors' expectations may change accordingly.
Expand your approach to peer-to-peer fundraising. While event-focused fundraising continues to decline overall (scoring a 2.8 percent drop in revenue for the top 30 events nationally), a few large organizations improved their results over 2015, including the Alzheimer's Association and the American Heart Association. Smaller organizations are serving up competition with accessible, digital fundraising approaches that are less costly and easier to execute. In planning for your next event, in addition to revenue generation consider the less tangible benefits of outreach and increased prospect engagement —and how best to accomplish your goals. Clearly define what you want to accomplish—both in revenue and communications/ engagement—and set metrics to evaluate your success.