Giving USA released its newest estimates of charitable giving in Am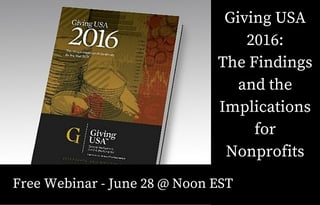 erica today, and the results should be reassuring for nonprofits around the country as they look at the latest philanthropy trends. According to Giving USA 2016: The Annual Report on Philanthropy, total giving grew by 4.1 percent to $373.25 billion in 2015. This marks the highest total amount given in the 40 years Giving USA has tracked this data, both in current dollars and when adjusted for inflation.
The past decade has been a tumultuous one for both the economy and philanthropy. This data suggests that the years of crisis and ensuing period of recovery have now been replaced by a period of stable growth. For the past six years, total giving to charitable causes in America has steadily increased.
Giving by all the primary sources of philanthropic dollars – foundations, corporations, individuals, and charitable bequests – have reached new heights when measured in current dollars. When we look at recipient organizations, all but one subsector (giving to foundations) experienced positive growth from 2014 to 2015, and five different subsectors (education, public society benefit, international affairs, the arts and the environment/animals) saw growth of 5 percent or more during that time period.
This growth has occurred within a context of numerous disruptive changes. After a period of strong growth, stock markets which fueled much of the initial economic growth following the recession became more erratic in 2015, rising and falling dramatically throughout the year, before ending December close to where they started. While baby boomers continue to be the primary major donors for most organizations, the leading edge of that generation turned 70 years old last year and is moving out of its prime earning and working years and potentially shifting household giving preferences. Meanwhile millennials, who were once forced to move home by stagnant labor markets, are now enjoying the fruits of a revived economy and looking for ways to engage philanthropically. Online giving tools that used to be cutting edge have now become a mainstay of fundraising and an expected option for not just young donors, but connected supporters of all ages.
So what do we make of this? First and foremost, it should inspire optimism for those of us working to raise money for causes about which we care. Donors appear to have found confidence to give generously and consistently after a period that jarringly eroded a significant amount of individual and institutional wealth in America and beyond.
Secondly, though we have returned to a period of consistent growth, it is important to remember that the population, the economy, and the nonprofit sector continue to evolve. While there may be more dollars available for charitable causes now than ever before, organizations which have not adjusted their nonprofit fundraising tactics in response to the changing demographics and expectations of modern donors cannot expect for the rising tide to raise all ships.
Join me on a free webinar June 28th for an extended discussion of Giving USA's findings and their implications for your organization. I'll be joined by Melanie McKitrick, Managing Editor of Giving USA, as we review the historical context of the latest giving trends, how to interpret the numbers, and their likely impact on your advancement efforts.