Giving USA has published the longest-running, most comprehensive analysis of charitable contributions since 1957—and religion continually tops the list over the other nonprofit subsectors by a wide margin. The Giving USA:Special Report on Giving to Religion (Fall 2017) sheds new light on giving to this important sector, including the unique challenge of calculating these estimates and how the evolving religious landscape is changing charitable giving in America overall.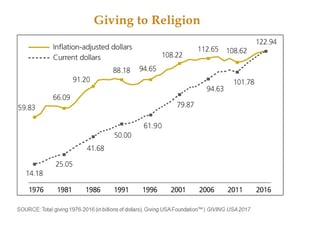 At an estimated $122.94 billion given in 2016, religion cornered the market at 32% of total giving, which is more than twice the next closest contender, education. But a closer look at the data behind this sector reveals some relevant facts that can inform giving more broadly across all sectors. Generally, religious donors give at higher rates to other subsectors than their non-religious peers, according to Connected to Give: Faith Communities.
It is important to note that the nature of religious giving makes it more difficult than other sectors to quantify, because religious institutions do not file Form 990s and congregational giving is the only sector in which fundraising is typically not handled by professional fundraisers. An additional challenge is that about 25% of churches are no longer affiliated with a particular denomination and new congregations are forming on a regular basis. Giving USA is the only annual report on giving to religion across all faith traditions in the U.S.
The following key findings are based primarily on the Indiana University Lilly Family School of Philanthropy Philanthropic Panel Study (PPS), part of the Panel Study of Income Dynamics (PSID) by the University of Michigan, cited in the Special Report.
1 The frequency of religious attendance is linked with religious giving. The greater frequency of attendance at religious services, the better the chance that a household will donate to a religious entity and will give in higher amounts.
2 Religious affiliation impacts religious giving. In general, 62 percent of religiously affiliated households give to charity, whereas just 46 percent of those with no religious affiliation do so. Protestants give more to religion than other denominations, but Jewish households appear to be more generous overall than their counterparts, giving more to charitable organizations overall.
3 Age is linked with larger gifts to religion. Not surprisingly, older individuals give more—overall and to religion specifically. Just 23 percent of individuals under 40 give to religion; whereas 37 percent of those 40-64 and 54 percent of those 65 and older give to religion. Although gift amounts decline following retirement, the difference in average annual donations pre- and post-retirement drops only $92 dollars on average.
4 The number of donors giving within generational cohorts (Millennial, Gen X, Baby Boomer, and Pre-Boomer/Silent) has declined, but giving is steady among those who give. The average annual charitable contribution has gone down from generation to generation when examining all households, with Millennials donating the least.
5 Religious giving increases with income and wealth. Both the number of donors increases as well as the amount given, as income rises for religious donors.
6 Religious giving increases with educational attainment. This finding can be attributed, at least partly, to the link between education and income.
7 African Americans focus a greater percentage of their giving to religion than whites or Hispanics. However, whites give more overall to religion than African American or Hispanic households.
8 Single women are more likely to give to religion than single men. The same is true of overall giving, but the difference between giving amounts is much smaller.
9 Additional social and demographic factors play an important role in religious giving. Further analysis drills down on factors such as the impact of singles vs. married couples. Married couples are more likely to give and give larger amounts, to religion, while single women are more likely to give and give larger amounts to secular causes. Single men give significantly less in all giving measures tested.
Religious organizations can benefit from learning more about their donors and taking some cues from other charitable organizations in key fundraising practices. Congregations are increasingly forming a group to oversee fundraising efforts and cultivating major gift donors is becoming more common. Younger donors should not be forgotten—and they may want to be engaged in volunteer roles as well. Investing in software to track contributions can be helpful internally, but also to demonstrate the impact of giving in the work of the church or organization.
The religious sector is changing, and that evolution will continue to affect charitable giving—not just within giving to religion, but giving overall. Religious donors give substantially more than others to nonprofits across all subsectors—an important factor to keep in mind for all charitable organizations.
Explore recent JGA blogs on key trends in other nonprofit sectors: