The Baby Boomer and Millennial generations are frequently top of mind in discussions and research into the generations and generational giving preferences, but what about the "in-betweens?" Given the buzz, particularly about Millennials, it may be easy to overlook a resource for significant current and future donor growth for your organization: Generation X.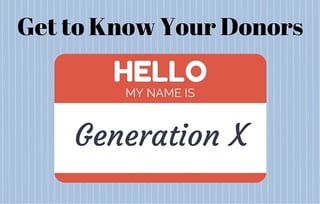 Also known as Gen X, this group includes those born in the United States from 1964 to 1980. Gen Xers are sandwiched squarely between older Baby Boomers and younger Millennials and represented 20% of total giving in the U.S. in 2013.
Based on data compiled by Pew Research Center, notable characteristics of this generation include:
Diverse: 61% white (non-Hispanic)
Religious: only 21% are religiously unaffiliated
Moderately Educated: 46% had a high school diploma or less in 1995 (at age 25-32)
Patriotic: 64% say they would describe themselves as "a very patriotic person"
Insecure about Retirement: 44% are not confident about having enough money for retirement -- this insecurity is greater than both that of Baby Boomers (40%) and Millennials (35%)
Although Gen Xers don't typically consider themselves a distinct generation, when asked what makes their generation unique in a Pew Research Survey, common responses were technology use, work ethic, conservative/traditional, smarter, and respectful. Most of these characteristics were also shared by Millennials or Baby Boomers, with exception to conservative/traditional.
For this generation that is thought of as self-reliant, skeptical, savvy, and more traditional, a blended fundraising approach is likely to be most effective. According to Blackbaud and Edge Research's report The Next Generation of American Giving, trends and strategies you may want to consider when approaching Generation Xers include:
Demonstrate impact: 50% of Xers want to see demonstrated impact of their gift, and this has significant bearing on their decision to give. Messaging about your organization's impact is critical.
Blend method of appeals: Gen Xers join Millennials in having a growing preference for making online donations but still respond to mail appeals (albeit, much less so than older generations). Checkout donations, purchase of proceeds/retail philanthropy, pledges, and tribute gifts are other popular, growing giving methods.
Solicit more than once per year: 50% indicate willingness to give more than once per year—which is more than any other generation—so they are more likely to be receptive to multiple solicitations.
Likely to give to your cause, along with others: Priority causes include places of worship (36%), local social service organizations (29%), children's charities (28%), animal rescue/protection (21%), and emergency relief causes (18%). Other important causes include health charities, education, troops/veterans, and human rights/international development organizations.
Engage in multiple ways: The top two ways Gen Xers feel they can make a difference are by donating money and volunteering. Donating goods and spreading the word are other important methods of engagement. Fundraising and advocating are less important, each selected by just 4% of respondents.
While Baby Boomers remain a predominant force in philanthropy, don't ignore Generation X. They are not just the current and upcoming business, board, and community leaders—they are an important part of your organization's long-term fundraising strategy.
To learn more about generational giving patterns, I encourage you to review this blog on Generational Giving Preferences by Angela White.