A feasibility study is an excellent means to gather input from key con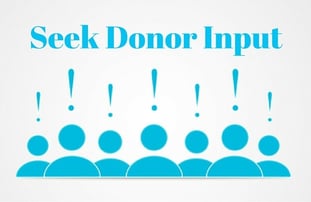 stituents for a potential campaign or major gift initiative. Most studies include individual conversations with a number of key donors and prospects to gauge both their interest in the proposed initiatives and their inclination to support them financially. But, there is also an opportunity to dig deeper and learn what a broader group of your constituents think as well if you add some additional feasibility study components.
As a feasibility study best practice, we recommend that personal interviews take place with individuals who are in the top 10% of the client's prospect list. We've found the vast majority of successful campaigns are based on a relatively small number of lead and major gifts supported by a broad array of other gifts at various levels. Generally speaking, approximately 94% of the campaign funds are contributed by 10% of the donors, according to the 2013 CASE Campaign Report. Therefore, JGA begins with this group of prospects.
However, some clients may want broader input from other constituents on the campaign components as well as other specific feedback on the organization. In these cases, JGA has found electronic surveys or focus groups to be useful tools to gather and codify additional input from constituents during a feasibility study.
An electronic survey of an expanded group of constituents and potential campaign donors works well with organizations that have larger databases or have built-in constituencies, such as alumni. For instance, if an organization conducts wealth screening of their database and the results render more prospects in the top 10% of donors than can be interviewed, an electronic survey can serve as a tool for garnering broader input. This technique allows an organization to gain additional insights from donors before beginning to cultivate them for larger gifts.
Although the survey should remain brief, a handful of carefully selected questions can be very informative for an organization. The research instrument generally mirrors the same line of inquiry as in-person, phone, or focus group discussions.
The survey can gauge how individuals feel about the organization and its goals, their overall engagement with the organization, and the specifics of a potential campaign. It also can explore topics like how they prefer to receive communications or to participate in activities.
A focus group format is another effective way of capturing additional constituent input for a feasibility study. The group discussion that is facilitated in a focus group can prompt new thoughts or ideas that might not have emerged in individual conversations, as some individuals may feel more comfortable speaking their minds in a group setting.
Focus groups generally should contain no more than ten people, to facilitate effective management of the conversation and recording of input. Conducting a few focus groups to address constituent group/community reaction to the preliminary case for support—in combination with individual interviews—can be effective in gaining additional input to inform the study.
Input from electronic surveys and focus groups should be integrated into the study report as a part of the findings and considered along with key insights from personal interviews when crafting recommendations.
Augmenting a feasibility study with electronic surveys and focus groups will not be useful for every organization, but for selected situations, these are useful tools that can add another dimension to the feasibility study report and can be an excellent means of reaching out and engaging a broad pool of prospects in a different way.
Want to read more of our feasibility study best practices: