Undertaking a feasibility study is active capital campaigning and is an integral part of the cultivation and involvement process of major donors and prospects. Ensuring your feasibility study has the proper guidance and support from the top is key to success.
One of the feasibility study best practices that JGA recommends to our clients is to recruit and engage an Advisory Committee to guide the work and progress of the study. They can help build buy-in and support for the study among leadership, staff, and key volunteers.
The Advisory Committee is usually comprised of seven to nine key volunteers, prospective donors, and institutional leaders who meet several times during the study to build consensus and a sense of excitement for the campaign among constituencies. The committee members work hand-in-hand with leadership and staff in developing effective approaches to campaign implementation, even in the early phases of work. They also help to guide the work of counsel.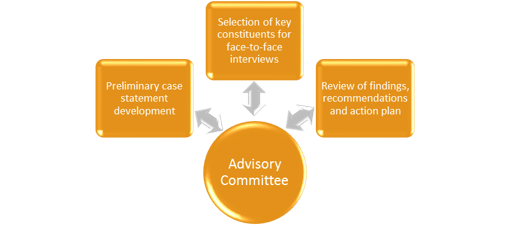 Selecting Advisory Committee Members:
7-10 volunteers, prospective donors, and institutional leadership
Individuals who are likely candidates for organization's Campaign Committee
Expected Role of Members:
Review and approve a preliminary case for support
Provide guidance on the selection of interviewees and the conduct of the feasibility study
Receive and consider the final study report
Benefits of the Advisory Committee:
Provides high level strategic engagement at a very early level in the campaign planning process
Ensures that the organization's leadership endorses and understands the work of the study
Often helps volunteers discover their own passion for the cause and orients them to best practices for the subsequent campaign
Some may fear that an Advisory Committee may complicate the work of a study; in that it will create more work for staff or counsel. In our experience, it actually saves time over the course of a study and later because it engages volunteers, helps them quietly decide they want to be volunteers in a campaign that may follow, as well as creating a group of supporters who can strongly advocate for the results of the study.