Data-driven fundraising is a vital tool that can help you maximize your development efforts. JGA asked Bill Tedesco with DonorSearch to share tips on using insights from your donor data to help you reach your donors effectively and efficiently.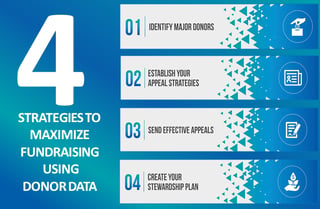 Using your donor data is especially important for building relationships with major donor prospects. Don't waste resources sending appeals that donors won't respond to. Instead, use these 4 strategies to maximize your fundraising with donor data:
1. Identify major donors.
2. Establish your appeal strategies.
3. Send effective appeals.
4. Create your stewardship plan.
1. Identify major donors.
Major donors can make a significant impact on a nonprofit's success. Unfortunately, major donors aren't likely to appear without thorough cultivation on your nonprofit's part.
Before you can build relationships with prospective major donors, you first have to identify which donors have major gift potential. It's very possible that major donors are hiding in your database, especially in the age of online fundraising.
For example, a prospective major donor would likely give a mid-sized (rather than major) gift to a peer-to-peer campaign. Your peer-to-peer fundraising software would transfer the donor's data into your CRM, but it would take additional research to uncover their major gift potential.
That's why it's important that you use the data you do have so that you can learn more about their giving capacity. These basic data fields should be filled out for every donor; here's what you can learn from each one:
Name. With a prospect screening service, a donor's name can be searched across multiple databases and records, so that you can identify their past giving and philanthropic history (as well as other useful information). SEC transactions and political donations, for example, are publicly-available information that can indicate a donor's giving capacity.
Address. A donor's address can be used to identify the value of their real estate. A donor's real estate holdings can show you more than their giving capacity; the correlation between property values and philanthropy is quite pronounced. Donors who own more than $2 million in real estate are 17 times more likely to donate to a nonprofit organization than the average person.
Email. Some donors may use their corporate email addresses when they make an online gift. Knowing where your donors work can help you learn more about their business affiliations. You can identify matching gift programs and opportunities for corporate philanthropy. Plus, you'll learn more about who your donors are as people by gaining insight into their working lives.
These data fields will be captured in any online donation form worth its salt.
Of course, your donor profiles should be full of much more information than the bare basics. These examples are simply an illustration of how much you can learn about your donors from even minimal amounts of data. The trick to finding major donors within your data is to identify those with both the ability to make a major donation as well as the affinity to give to your organization.

Prospect research can help you determine a donor's likelihood of giving a major gift. You can use prospect research to fill in data fields and leverage the information you already have to gain a more comprehensive picture of your donors.
Either way, information begets action; the more you learn about your donors, the better you can create targeted asks for major gifts.

2. Establish your appeal strategies.
The structure of your fundraising appeals will determine what kind of software you need to invest in. It's important to know which strategies will be most effective for engaging your donors so that you can raise enough to cover any initial expenses that occur.
A data-driven fundraising appeal can help you connect to your donors organically by determining their preferences. To determine which appeals will be most effective, you can look into these data fields:
Preferred communication channel. By looking into your donor database, you can track your donors' engagement with your various communication channels. For example, if your donors show high online engagement rates, then hosting a crowdfunding campaign could garner more donations.
Preferred giving channel. Though your donors may prefer to interact with your organization on one channel, they may like to give to your organization through another. Knowing their preferred payment methods can help you ensure that you're providing giving opportunities that donors will respond to. Why waste resources on addressed envelopes if your donors universally prefer mobile giving?
Knowing how your donors prefer to donate and communicate with your organization can help you determine an appeal structure that will attract them the most. That way, you can invest resources into the software that will bring you the highest return on your investment.
You can also segment your donors into specific groups so that you can create targeted appeals. An appeal aimed at major donors, for example, may include handwritten notes from board members, invitations to exclusive events, or solicitations for advice. In contrast, an appeal aimed at Gen Xers may take advantage of multichannel marketing because this demographic responds well to both mailed and online materials.
Knowing who your donors are can help you appeal to them more readily. Segment your donors and use the data you have so that you can create appeals designed to engage them.

3. Send effective appeals.
Knowing your supporters' preferences in broad terms can help you structure your overall appeals. However, you'll still need to use specific donor data to craft personal, effective appeals that reach each individual donor.
To engage your donors most effectively, you'll need (at the very least) to use this data:

Preferred names. Addressing a donor by their preferred name and title ensures that you're speaking to them naturally. Stay up-to-date on this information in the event that a donor takes the name of their spouse or earns a promotion in their title (such as receiving a PhD, for example).
Giving level. Your major donors will require more personal appeals. After all, they have already demonstrated enormous financial support for your organization, and you need to show them how valuable they are to your cause. Your frontline fundraisers may need to call or meet in-person with these donors before making an ask.
Past giving history. The last thing you want to do is accidentally offend a donor by asking for a gift too soon after they've already given. Hold your asks (even mass, scheduled asks) for recent donors, and instead engage them with other information or opportunities to get involved. A volunteer day, newsletter, or update on your campaign are all prime materials for your next communication.
All of this data tells you who your donor is and how they fit into your organization. It only makes sense that your appeals should reflect your donors.
Even as nonprofit trends change and you develop new communication channels, it's important that you always speak to your donors as people, not donation-machines!
Using your donor data can help you reach your donors as the individuals that they are.

4. Create your stewardship plan.
One of the most important elements of fundraising is stewarding your donors once they've already given.
You'll need to update them on the status of their gift through their preferred communication channel, so that they can see the impact they've made on your cause. This general stewardship practice is important for retaining all of your donors, but you can use your donor data to build more refined strategies for specific donor groups.
Stewardship is especially important for retaining major gift donors; after all, they've contributed enormously to your organization, and you need to show them your gratitude and appreciation, or they probably won't give again.
Using your donor data, you can determine what kind of stewardship is most effective for your donors and when you should schedule each activity or communication. The more data-driven your stewardship strategy, the more likely you are to retain donors and move them upward to higher giving levels.

For example, if your data points to high engagement at your events, then hosting a stewardship event can help you appeal to your donors' interests. Alternatively, you may have extra data on your high-level donors that you can use to build your relationships.

Donor data is an advantage in fundraising; use what you have to build your strategy and raise more from your campaigns.