Donor-advised funds (DAF) continue to be a popular way for individual donors to manage their philanthropy. DAFs are not a passing trend and are, in fact, here to stay. According to the 2014 Donor-Advised Fund Report, issued by National Philanthropic Trust, as of 2013, more than 217,000 DAFs had been established, which is a 34 percent increase in just seven years. In that same year, DAFs granted $9.66 billion to charitable organizations, and more than $17 billion was contributed into these funds.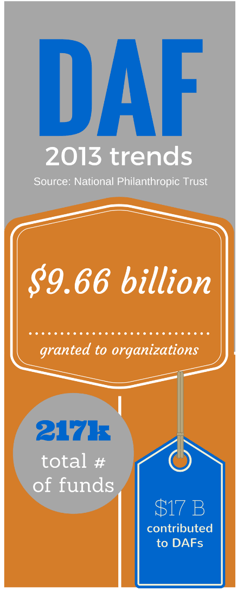 With this in mind, it is important to understand the basics about DAFs to better prepare your organization to work with individuals who have DAFs.
What are Donor-Advised Funds?
A DAF is in many ways like a personal foundation or family foundation, but instead of being a stand-alone foundation, it is housed within a larger organization. According to the Internal Revenue Service (IRS), a DAF is defined as:
"A separately identified fund or account that is maintained and operated by a section 501(c)(3) organization, which is called a sponsoring organization. Each account is composed of contributions made by individual donors. Once the donor makes the contribution, the organization has legal control over it. However, the donor, or the donor's representative, retains advisory privileges with respect to the distribution of funds and the investment of assets in the account."
The sponsoring organization may have established a minimum gift in order to establish the DAF, from as little as $1,000 to $5,000, to five-figure plus minimums. The sponsoring organization will charge a management fee, which will also vary depending on the terms. A DAF can be a cost-effective way for donors to manage their philanthropy.
Where are Donor-Advised Funds Held?
DAFs can be held in a number of places. Several for-profit financial institutions offer a DAF program through a charitable arm of their institution; these include Fidelity, Schwab, Vanguard, and more. Myriad foundations and some organizations also offer DAFs, which namely include community foundations, university foundations, special-interest foundations, and other public charities. Each has its own pros and cons. Some options may offer more personal attention to and support for the donor(s)/family, helping direct philanthropy to best fit interests, goals, and motivations; others may offer more sophisticated investment options for the fund. The Forbes article How to Find the Right Donor-Advised Fund (And Why) outlines in greater detail one perspective of the considerations a donor may make when establishing a fund and the options that are included.
Recognizing DAF Gifts
When a donor establishes and adds to a DAF, the donor receives a tax deduction at that time. If your organization receives a gift via a DAF, you should appropriately thank that donor, but not include tax deduction language in your acknowledgement letter. Have you Hugged Your Donors Lately? A Lesson in Stewardship from Dogs provides some tips for acknowledging your donor in ways that go beyond the letter.
Learning More
There are many resources to turn to for more information about DAFs; a few I have found are listed here.
Please comment below to share any other resources – or tips in working with DAFs – you have found helpful.