Like many others, I began my career in fundraising by attending the Principles and Techniques of Fundraising class at The Fund Raising School at Indiana University's Lilly School of Philanthropy. As a new member of the development team at the Indiana University Foundation more than 20 years ago, I learned that, typically, an organization could anticipate that 80% of the dollars raised in a fundraising campaign would come from 20% of the campaign donors. The so-called 80/20 rule.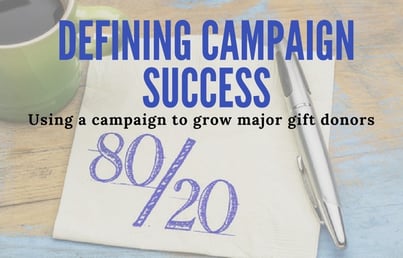 Much has changed in the last twenty years. Mirroring, or perhaps in response to, the changing landscape of wealth distribution in our society, fundraising campaigns have more significant dollar goals that rely on fewer and fewer donors in order to achieve success. Campaigns are now typically based upon the projection that 90% of the dollars will come from 10% of the campaign donors. In some corners of the nonprofit sector, notably higher education, successful campaigns may have 95% or more of the dollars contributed from as few as 5% of the campaign donors.
In this context, a campaign goal that is both rationally feasible and seemingly aspirational could rely on a very targeted, short list of important lead gift relationships. A comprehensive campaign can succeed rapidly when an organization's wealthiest, most committed donors choose this moment in time to make their ultimate gifts. Take these few, very large lead gifts, then add the ongoing annual gift support during the counting period …. goal achieved.
I think it is fair to ask -- what should we mean by "successful campaign?"
On one hand, the goal was properly tested, the campaign was launched, the goal was reached or exceeded, and the donors and volunteers were happy. Everybody wins. Isn't this good news?
Yes. It is good news. But couldn't and shouldn't it be even better?
Chances are, whatever campaign you are planning will not be your organization's final campaign. I believe that an organization should be in a better position for the future after a campaign has succeeded than it was before it started. Not only in its direct impact but also in its future capacity for fundraising.
In the era of the 80/20 rule, the largest lead gifts were important, but not necessarily enough to nearly finish a campaign. The early portion of the public phase likely needed a healthy number of first-time major gifts from individuals who had never been asked to take this step previously. Front-line fundraisers, often part of a newly expanded staff ready to focus on these newer relationships, had their greatest impact on a campaign's success and the future of the organization's fundraising through this work.
On paper, in a 90/10 or 95/5 world, this activity often appears less crucial than in the past. I disagree. It should still be viewed as crucial to the organization's future even though the campaign goal might be reached without it.
Ask yourself this - how many of those largest gifts from the wealthiest donors at the top of the campaign gift chart came from donors making their first major gift to your organization? Put another way, how often is an ultimate gift that donor's first major gift?
More likely, these donors previously made lower level major gifts that strengthened their relationship to the organization. These early major gifts gave your organization an opportunity to show these donors the wonderful impact they can have on your organization and more importantly the community. Needs were met, and your organization became a viable conduit through which donors could achieve their priorities and impact.
How many of those early major gifts is your organization leveraging through a campaign? Who will be the early lead donors in future campaigns if you aren't building those relationships now?
Consider adding these steps to your early campaign planning to expand the reach of your major gift program and build capacity for your next campaign:
Look closely at your organization's potential upcoming first-time major gift donors. A good means of uncovering these new prospects is to engage in a predictive modeling / wealth screening evaluation of your donor database.
Determine whether your frontline gift officers have room to add these new potential prospects to their portfolios or whether you need to add gift officers for this campaign (and hopefully beyond the end of the campaign).