Member, Board of Directors, IU Bloomington Hospital Foundation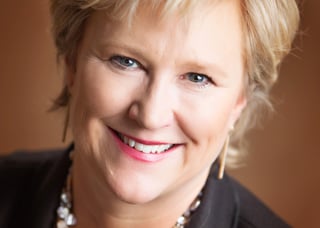 In the spring of 2015 in Bloomington, IU Health Bloomington Hospital and Indiana University announced plans for a new regional academic health campus, which will initially include a new hospital, outpatient facility, and academic building. These facilities will replace the current IU Health facility, which has served as a community hospital since 1905.

This once in a lifetime opportunity has the Bloomington Hospital Foundation (BHF) development team considering how to engage the community philanthropically in order to maintain a distinct community hospital feel. Trish Oman, Director of Development for BHF has enlisted women of the community in her "Women of Vision" group to tackle this challenge. Trish is putting women's philanthropy research into action as she taps into one of the most powerful philanthropic engines in the community for vision and leadership in service of this new community health resource.

In 2010, The Women's Philanthropy Institute at the Indiana University Lilly Family School of Philanthropy published Women Give 2010 which shed light on the role and importance of women in the world of philanthropy and started a conversation about how to engage women as philanthropists and philanthropic leaders.

An "ah-ha moment" of sorts began as philanthropic professionals came to understand that women make their giving decisions differently than men. This led to the realization that because of their different decision-making styles, women were often not reached by the traditional fundraising conversations. The importance of this information was magnified when researchers realized that their data suggested that women donors are more generous than their male counterparts.

Armed with this knowledge, development teams began to work diligently to engage women in ways that would advance their mission and help women reach their philanthropic potential. The result is the evolution of a variety of women's giving circles, women's councils, and other groups for women, in an effort to begin to harness this potential.

Bloomington's Women of Vision(WOV) uses this contemporary construct to do just that. It recognizes that community health hits women right in their sweet spot since research shows that women tend to care deeply about missions related to social services such as job training, education, and health care. The WOV group gives women a voice in the planning of the new community health campus and as the Hestia factor of the community; they have a perspective that is valuable and significant.

By implementing WOV, the BHF acknowledges that women donors tend to give to organizations where they volunteer. As WOV engages women as volunteer thought leaders for the new health campus and honors their contribution of time and talent, it begins to establish a volunteer corps that will likely have an interest in also investing their treasure in the mission through philanthropic support. Because this health campus is part of a large hospital system and research university, it is this philanthropic engagement that will give it the community hospital feel that the residents of Bloomington have come to expect from their health care system.

The BHF development team understands from women's philanthropy research that women desire an increased level of transparency from the organizations they support. Through its WOV group, the BHF has created the platform to give its members a bit of an "insider's view." This transparency serves women's needs to understand impact and operational effectiveness, which is an important factor in their philanthropic investment decisions.

The Women of Vision is still taking shape, but even from this early stage, it is clear to see that it has the potential to really energize the philanthropic spirit of the Bloomington community. Its construct is engaging women in ways and around a mission that resonate deeply. Its "insider's view," is providing the transparency that women crave in their philanthropic investing. Finally, as it gains its philanthropic focus, the likelihood is the group will instinctively join together to create impact in ways that members might not be able to accomplish individually.

There is much more to unfold in Bloomington. Stay tuned as Trish Oman and the Bloomington Hospital Foundation's Women of Vision put research into action for community health.


Alisa Hendrix
Alisa resides in Bloomington, Ind., where she has a history of small business ownership, volunteerism, and civic leadership. She is a member of the Indiana University Foundation Board of Directors and is a founding member and Co-Chair of the Women's Philanthropy Leadership Council. She serves on the Board of Visitors for the Lilly Family School of Philanthropy where she completed a Master's degree in 2015. She is an active leader of the Bloomington community, serving as a director of the Bloomington Hospital Foundation and as a director of the Community Foundation of Bloomington and Monroe County. Her community interests include philanthropic education, mental health and community development.