by Ted Grossnickle
Nonprofits looking to engage Millennials, ages 20 – 35, need a strategy to quickly capture these tech-savvy, young professionals in the moment.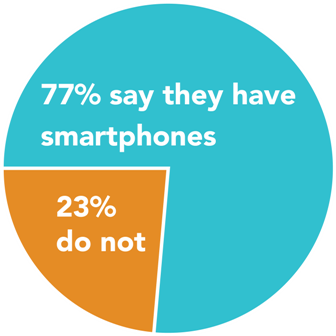 This year's report on Millennials sheds light on how crucial mobile strategies are to organizations. With 77 percent of surveyed Millennials saying they have smartphones, organizations need to ensure they have a solid mobile strategy. It is clear that unless communication from nonprofits changes, Millennials are not going to react favorably to requests for support or involvement.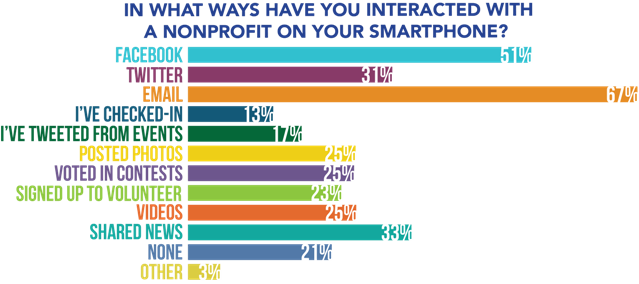 In its third annual study, JGA and Achieve have expanded their methodology to gain further insight into what works with the next generation of donors and volunteers. Insights for this year's survey were gathered from 6,522 responses to a national online survey, 27 participants in Millennial focus groups conducted across the country, and 89 nonprofit professionals' responses to an online survey.
Download the report for useful advice on developing programs and strategies to enhance Millennial participation in your organization. We've included recommendations for action and sample case studies to demonstrate what's working in the areas of connecting, involving and giving so you can develop a holistic approach to moving Millennials along the engagement continuum.
You can also review additional case studies, blogs and discussions about engaging Millennials at www.themillennialimpact.com.
Angela and Derrick Feldmann of Achieve will host a webinar to review the report findings and important takeaways on Wednesday, June 20th, from Noon to 1 p.m. EDT. Be sure to register for this complimentary webinar.
We encourage you to think seriously about the way you'll engage this group of current and future volunteers and donors.
Key findings
Connecting
When Millennials want information about nonprofits, 65% turn to the organizations' web pages, 55% rely on social media, and 47% want updates via e-newsletters.
When going to a nonprofit's website, 89% of Millennials go first to the page that describes the mission of the organization.
When researching organizations, 44% of survey respondents want to know how donations are used, 41% want to learn about volunteer opportunities, and 41% look for event calendars.
Of the more than 75% of surveyed Millennials who own smartphones, 80% have used those phones to connect with a nonprofit, usually by reading emails or e-newsletters (67%) or getting organization updates (51%).
In focus groups, Millennials said they view texting and phone calls as personal forms of communication, and therefore do not want texts or calls from nonprofits.
Involving
When choosing volunteer activities, Millennials will often act quickly. As such, they want opportunities to respond immediately to inspiration.
63% of surveyed Millennials volunteered for nonprofits in 2011.
81% of survey respondents prefer to learn about volunteer opportunities from friends or family members. 72% want volunteer information via email, and 67% look to an organization's website for information.
By a margin of more than two-to-one, Millennials who volunteer for nonprofits are more likely to make donations, and survey responses and focus groups comments suggest that volunteering correlates to larger gifts.
77% of Millennials surveyed are interested in becoming involved in volunteer leadership with a nonprofit, but only 20% are currently on a board or committee.
Giving
75% of surveyed Millennials made a financial gift to a nonprofit organization in 2011.
70% of the Millennials participating in the survey said they have raised money on behalf of nonprofits, most often by promoting events or participating in active events.
58% of gifts were $100 or less per organization, but the typical Millennial supported five organizations in 2011.
When asked to choose the phrase that best describes their giving preferences, 42% of respondents chose, "I give to whatever inspires me at the moment."
Millennials are willing to help raise money for nonprofits they believe in, and will turn first to family and friends for donations.