by Angela White
Some time ago, I recorded a short video interview on why we advocate feasibility studies at JGA, and I find that those reasons continue to hold true.
Conducting a feasibility study prior to a campaign is a common and proven way to gauge what level of support may be achieved in a campaign and what strategies should be employed – not only to achieve a financial goal but, perhaps as importantly, to build both unity and momentum for organizational success.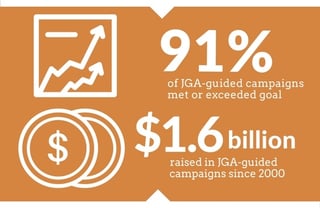 A feasibility study provides the opportunity for your current and prospective lead donors to dream big, to think through what the future will look like for your organization, and to share how they see themselves participating in that future.
Here are some questions a good feasibility study should help you answer.
1. How much money can you expect to raise in a campaign?
- How much are donors willing to invest to help your organization achieve its goal?
2. Who are potential volunteer leaders?
- Who might be able to partner with staff to make the campaign a success?
3. What are the perceptions of your organization among your constituents?
- How do donors perceive your organization today and how do they envision its future?
4. Are there underlying issues impacting your organization's potential for success in a campaign?
- What might motivate donors to maximize their giving?
- Are there challenges that could negatively impact the amount of gifting you are likely to receive?
- Are there issues impacting your constituency of which you need to be aware?
5. What are the broader questions that need to be asked specific to your organization?
- How can we position this campaign to be successful today and set the stage for long-term growth?
A feasibility study will help develop a thorough understanding of how successful your campaign may be and where you may encounter challenges.
Feasibility studies that yield the most useful information include:
A vision for the future that your president and board believe in passionately and is articulated clearly in a preliminary case for support.
A detailed, custom methodology for the feasibility study that is designed to meet your organization's needs, not a cookie cutter approach.
A tailored selection of questions that considers your organization's history and current situation.
Face to face interviews which yield more insights and build closer relationships to volunteers and donors.
A process for involvement of key staff, volunteers, and other constituents important to your success.
Organizations that undertake a feasibility study show a willingness to test the strengths of their ideas and vision with those who are being asked to support them. Prospective donors instinctively understand the honesty of this approach and want to share their thoughts. It makes all the difference in campaign success.
Here are some other resources to review as you explore a potential feasibility study: