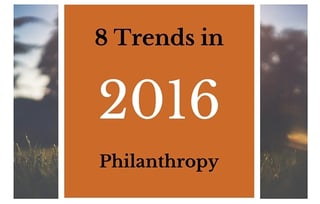 As we begin a New Year, we reflect on the wonderful generosity of so many individuals, corporations, and foundations whose charitable giving in 2015 enriched and saved lives through the arts, education, healthcare, environment, human services, and religion.
In 2015, we learned that philanthropy had reached a new high, reaching $358.38 billion, a 7.1% increase in current dollars (5.4% in inflation-adjusted dollars). This is reported to be the fastest recovery on record for the past 40 years of tracking charitable giving and surpasses the 2007 pre-recession peak in giving. Along with a return to pre-recession giving levels, we have also seen a return to pre-recession giving priorities as evidenced by the growth in giving to environmental causes and arts and culture nonprofits.
So, with this level of record generosity, what philanthropy trends should we be watching in 2016?
These nonprofit fundraising trends, and others that will develop as the year unfolds, are important to watch especially in the midst of a U.S. presidential election year. Happy 2016!