Capital campaigns are an important tool in raising funds for nonprofits. In fact, 20% of higher education institutions reported that being in a fundraising campaign helped them raise between 176% - 200% more funds. It's no wonder then that in the first half of 2015 approximately 46% of nonprofits were in a campaign, up from 11% in 2011.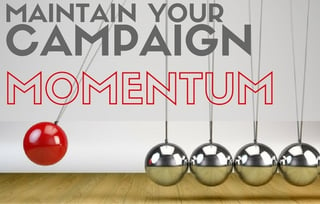 While a campaign can be a crucial initiative for moving an organization forward, the reality is that the vast majority of campaigns experience a period – or sometimes multiple periods – of time when they seem to lose steam. After all, campaigns are a multi-year initiative, so it's not surprising that there will be ebbs and flows in momentum. While a few bumps and lulls are to be expected, here are some ways you can ensure that the overall trajectory of your campaign remains positive.
Create a realistic timeline at the start of the campaign and refresh it on a regular basis.

You can't plan for unexpected events or predict every gift that will or will not happen during a campaign, but you can outline the overall flow of the campaign and include key benchmarks. This allows staff and volunteers to have a clear sense of the overall picture and to see ahead of time when there could potentially be periods of intense activity and periods when things are a little slower. Including benchmarks helps set expectations and reassures staff and volunteers as benchmarks are met along the way.
Cultivate buy-in from the very beginning of the campaign. Your board and key volunteers have to have a clear understanding of what they are agreeing to when they approve a campaign. The board needs to understand the process and not be blinded by the excitement of a new building or growing the endowment. It helps to show them the amount of work involved in a campaign and the role they will have to play personally in its success. Planning should start with a strong strategic planning process and then a feasibility study to help guide campaign development. The timeline mentioned above is a great tool to utilize and a gift range chart can illustrate the types of gifts that will be needed to make the campaign successful.
Keep your volunteers energized. This can be tricky at times – especially when campaigns last for multiple years – but look for opportunities to introduce new volunteers into the process. In some cases, you might have volunteers that want to be engaged during the entire campaign, but in other cases you might have some members that only want to be involved early in the process or as part of a specific committee. Develop a volunteer structure that works for you and your volunteers. We recommend organizations form an advisory group to help set the foundation of the campaign and then transition to a more formal campaign committee. Don't overextend your volunteers and when they are on a committee. Respect their time by making meetings meaningful and using their time and talents wisely.
Don't skip steps or get too far ahead of the plan. When momentum starts to wane in a campaign, it can be tempting to move too quickly to the public phase of the campaign. Often organizations think hosting a big event or announcing they are in a campaign in the paper will help them regain momentum. Yes, it might provide a temporary bump in activity, but if you don't have the right campaign structure in place or have not truly engaged your top prospects, moving to the public phase too early can have a negative impact on the overall success of the campaign. Instead, revisit your campaign timeline and ensure that key benchmarks have been achieved and you're ready to move to the next stage of the campaign before going public. The sequencing of events in a campaign plan can be critical.
Utilize a matching or challenge gift. Talk with key donors about the possibility of utilizing part of their gift to serve as a match or challenge. This can be an excellent way to increase momentum in a campaign and get people excited again. One study found that offering a matching gift can increase the gift amount by 19% and the likelihood of giving by as much as 22%.
Don't lose sight of why you started the campaign in the first place. Though you have a dollar goal you are focused on for your campaign, it is import to remember you didn't start the campaign to raise a specific amount of money. You started the campaign to raise the support necessary to help implement the vision of the organization. Remember to keep the case statement talking points in front of donors and volunteers. Discuss the impact that you are having and what the campaign will allow you to differently. Donors want to support ideas – so don't lose sight of why you are in a campaign.
Keep it fun. Campaigns should be exciting and fun for donors, volunteers, and staff members. Look for opportunities to engage staff members in new activities and allow them to grow and develop. While a campaign can provide multiple opportunities for staff members to learn new skills, it's easy for staff and volunteers to begin to feel like they are in constant campaign-mode by the time you factor in the work and time for the planning process and then the implementation stage. Make sure you acknowledge the work the staff and volunteers are doing and show your appreciation.
Remember there is a lot to love about campaigns. They can be a fun and exciting time for an organization, its volunteers, and donors. They provide an opportunity to outline an organization's vision for moving forward and allow donors to engage in new ways. Campaigns can also provide a platform for organizations to introduce themselves to a new audience and ideally broaden their donor base.
Hopefully you can use these ideas to keep the momentum going and drive your campaign to a successful conclusion.
Other resources to help with your capital campaign planning: