We are off and running into 2017! After a fall that was focused on the US Presidential election, the 2016 year-end season of giving seemed like a wonderful opportunity to focus on helping others, thanking donors for their generosity, and looking ahead to 2017.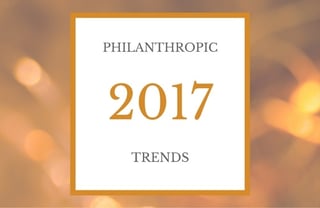 As I look ahead, I believe that these are the 3 philanthropic trends that will underpin our fundraising landscape in 2017:
Advocacy – As our nonprofits work with their newly elected officials, a focus on advocacy will emerge as more important than ever. How do we communicate the role of advocacy to our donors and ask them to invest in advocacy? The Council of Nonprofits outlines the need for heightened advocacy and the important intersection of federal, state, and local government with the work of the independent sector in this article.
Generation X – For the first time, we have four generations in the workforce and in our donor marketplace (Millennials, GenXers, Baby Boomers, and Silent/Great). Much attention has been given to the role of the millennial generation is charitable giving. Certainly, engaging this generation is important, but, just as important, and often overlooked, are the members of Generation X (age 34 to 52). This generation is producing the nonprofit leaders of the next several years as well as stepping into our nonprofit board leadership and major donor roles. How are you engaging this generation in your nonprofit and cultivating their increased involvement and investment? The Nonprofit Leadership Blog shares tips on engaging GenXers in your nonprofit here.
Individual Giving – Year after year, we learn that charitable giving in the US is driven by individual contributions (approximately 88% of all giving in the US comes from individuals in the form of cash, bequests, or grants from family foundations). This was reinforced -- in fact accentuated -- in the Giving USA 2016 Report on Philanthropy where we learned that individual giving created the majority of new philanthropic dollars coming into the nonprofit sector in 2015 (67%). Much of this growth is being driven by mega-gifts from individuals, especially from women and couples. How are you engaging individuals in your organizational mission and increasing philanthropic investment? To understand more about individual giving trends, download the Giving USA 2016 highlights.
Of course, there are many other ongoing factors that will impact philanthropy in 2017, including the continued growth of Donor Advised Funds, Impact Investing, Crowdfunding, and Women as Philanthropists. The three philanthropy trends listed above will be the underpinning of our work in fundraising in 2017. Happy New Year!