In a recent luncheon conversation, a prospective client asked me, "What, more than anything else, influences the success of a capital campaign?"
A number of important factors quickly came to mind: a well-conceived and executed plan, outstanding institutional and volunteer leadership, great campaign counsel (like JGA, of course . . . just couldn't resist!). But as I reflected on the many campaigns in which I have been involved over the years, I told the inquirer two things stand out as being most influential.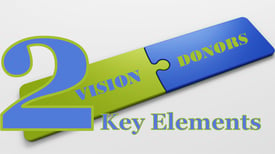 The first is a compelling vision rooted in solid planning. The second is a strong nucleus of committed and capable donors.
1. Dream Boldly and Inspire
For an organization to succeed in raising substantial philanthropic support in a campaign, it must offer a vision -- a dream -- an aspiration -- bold enough to inspire great generosity. It must provide potential donors an opportunity to be part of something extraordinary – saving and changing lives, facilitating dreams, extending services to generations to come. Donors want to be part of something that is exciting and enabling of even greater impact for an organization; preserving the status quo, balancing the budget, and maintaining operations and facilities generally do not motivate donors to be extraordinarily generous.
Although the vision to be funded by the campaign must be bold, it must also be rooted in solid institutional planning. Potential investors in that vision want to be assured that the institution has done its due diligence, it has assessed its opportunities and challenges, it has identified the strategies necessary to ensure continued mission fulfilment, and it has determined the resources critical to the advancement of the institution's vision. I explain this further in an earlier post about preparing for a campaign feasibility study.
2. Cultivate a Committed Core of Generous Donors
But if an organization has a great, bold vision for its future and it does not have a sufficient nucleus of well-cultivated potential donors, who are committed to the organization, and have the financial means to make major gifts to a campaign, then the campaign is not likely to go very far.
The success of campaigns is more and more dependent on a small core of highly motivated, extremely generous donors. What used to be the 80/20 rule (80% of the total raised in a campaign coming from 20% of the donors), shifted in the last decade or so to a 90/10 proposition, and is now becoming more of a 95/5 scenario. That is why the ongoing identification, cultivation, solicitation and stewardship of major donors is primary to the long-term success of any development program.
As I told my luncheon conversation partner, if you want to put your organization in the best possible position to be successful in a campaign, dream boldly, plan strategically and get busy cultivating and engaging a strong nucleus of potential major donors!