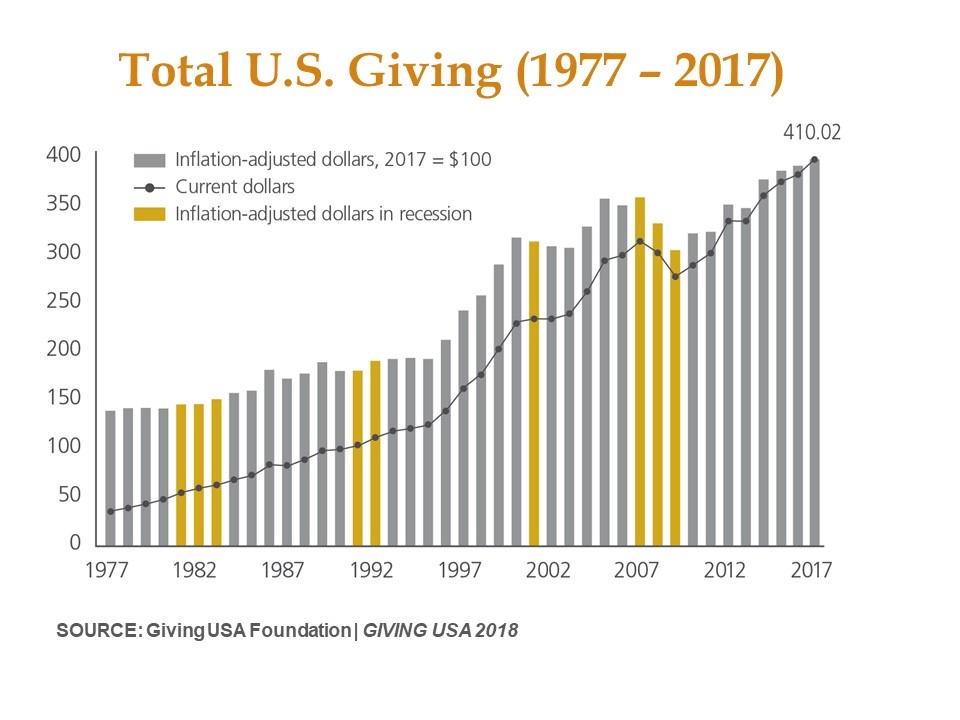 Giving USA released its annual estimates of U.S. charitable giving today, and the results show impressive growth despite a shifting national landscape. Giving USA 2018: The Annual Report on Philanthropy for the Year 2017 reports that total charitable giving in our nation reached $410.02 billion in 2017, an increase of 5.2 percent over 2016. This total breaks the lofty $400 billion mark and is the highest in the history of Giving USA, which began tracking this data more than 40 years ago.
Published by Giving USA Foundation, a public service initiative of The Giving Institute, Giving USA is the longest running and most comprehensive report of its kind in America. It is researched and created by the Indiana University Lilly Family School of Philanthropy.
All but one of the nine major categories of charitable organizations realized growth in giving. (International affairs saw a decrease of 4.4%.) Amid new national leadership, numerous national disasters, and the uncertain impact of tax law changes in December, Americans gave. This positive growth trend was fueled by a strong economy and an increase in personal consumption (4.5%)—the strongest indicator of individual giving.