Helping board members understand the importance of fundraising for your nonprofit organization is important, as I shared in my last blog 3 Steps to Creating a Stronger Board Fundraising Culture. However, even once board members realize the crucial role fundraising plays at an organization, not every board member is going to be comfortable soliciting gifts.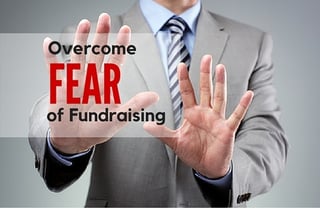 Here are some tips to help your entire board become more comfortable engaging in fundraising:

1. Openly talk with your board members on a regular basis about where they see themselves playing a role.
A lot of different pieces must come together to build an effective fundraising operation. Ask board members how they would like to be involved. This could include participating in events, making stewardship calls, going on visits with you to tell their story, personally engaging a small number of donors, serving on a campaign committee, or many other options. The key is to find one or more areas where each board member feels they can contribute. Chances are, once a board member becomes engaged, they will become more comfortable over time and be willing to add additional responsibilities.

2. Provide board training on fundraising.
Training and open discussion among your board members can make the process of fundraising less intimidating. Providing the entire board with a good overview of the fundraising operation and demonstrating a variety of ways they can each play a role in supporting fundraising will help them become more comfortable. At JGA, we are asked on a regular basis to conduct training sessions for board members. The purpose of training is to break down some of the barriers that board members might have about actively engaging in fundraising. When we explain in training that we are only asking them to share with others their own personal experiences with the organization and why they are engaged, they become much more comfortable.

Providing training sessions also allows board members to see that there are a lot of steps that go into soliciting a gift. When we explain the various steps in donor cultivation, board members realize you are not asking them to solicit a gift from someone out of the blue. They can play a critical role in cultivating relationship. In many cases, once they go on a few visits they become more comfortable with the process and might even surprise themselves by asking for a gift. They realize it is not taboo to ask people for a gift - you're allowing them the opportunity to make an investment in something they believe in.

In addition, board members should hear from their peers about their experiences in fundraising on behalf of the organization. If a board member has recently been on a donor visit ask them to tell their peers about the conversation. By hearing how others on the board have approached solicitation, it becomes less frightening.

3. Invite board members to go on a visit with you.
Let them see how the process works first-hand. Before the visit, talk with them about the goals for the visit and if there are areas in the conversation in which you want them to participate. In many cases, a board member will agree to go on the call, but hesitate to play an active role. Don't be surprised, however, if by the end of the meeting you find they are doing more talking than you are! Their input is invaluable. Volunteers can convey a message about your organization that staff can't. You can help them pass along their passion for your organization through story-telling.

4. Ask board members to help you make new connections.
One area that should not be negotiable when serving on a board is providing names and opening doors to prospective donors. Every board member should understand the importance of this function, which should be built into the culture of the board. Have regular peer screening sessions to help instill with board members the importance of advocacy and networking. And, once you have the names, it is critical for you to follow up, to show the board member that you made the connection and are able to report back on the results.

Fundraising is a critical piece of your organization's future and your board must play an active role. Your role is to find ways to engage board members and build the organization's culture so that fundraising is front and center in their minds.


Here are other resources from JGA on boards and fundraising: