Giving USA released its annual estimates of U.S. charitable giving today for 2016, and the results show overall growth during a presidential election year filled with national tumult and impending policy changes. Giving USA 2017: The Annual Report on Philanthropy reports that total giving in our nation reached $390.05 billion in 2016, an increase of 2.7 percent over 2015. This total is the highest since Giving USA began tracking this data 40 years ago.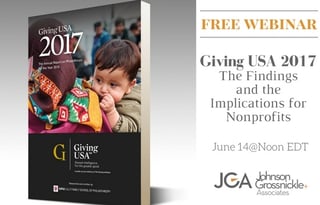 Published by Giving USA Foundation, a public service initiative of The Giving Institute, Giving USA is the longest running and most comprehensive report of its kind in America. It is researched and created by the Indiana University Lilly Family School of Philanthropy.
Despite volatility in economic and political arenas in 2016, each of the nine major categories of charitable organizations realized growth in giving. This has happened only five other times during the past 40 years (1976-2016). The increase continues a positive growth trend, indicating that charitable giving has overcome losses from the recession, although growth has slowed and is considered moderate overall.
Giving by individuals showed strong growth—an increase of 3.9 percent (2.6 percent adjusted for inflation), continuing to be the largest source of charitable giving. Research indicates that this growth may be attributed to an increase in gifts from the general population rather than from mega-gifts—currently defined as gifts exceeding $200 million—as in recent years. This strong growth boosted total giving and offset the drop in bequests (-9%). Bequests frequently fluctuate from year to year and are not influenced by economic factors.
"In 2016, we saw somewhat of a democratization of philanthropy," notes Patrick M. Rooney, Ph.D., associate dean for academic affairs and research at the Lilly Family School of Philanthropy. "The strong growth in individual giving may be less attributable to the largest of the large gifts, which were not as robust as we have seen in some prior years, suggesting that more of that growth in 2016 may have come from giving by donors among the general population compared to recent years."
Organizations in the arts (6.4%), health (5.7%), the environment (7.2%), and international affairs (5.8%) experienced significant growth in giving. Growth in the arts may indicate the effect of assertive and innovative fundraising practices. And, research suggests growth in environment and international affairs could have been impacted by a new phenomenon borne of the contentious political climate: rage donations. These donations are a reactive reflex for some donors, given out of frustration in response to post-election policy changes.
Education, while still very strong, saw slower growth in 2016 (3.6%) than in recent years, which may be related to the drop in mega-gifts.
What does all this mean for future nonprofit fundraising? The recession is officially behind us with a seven-year growth trend, but new challenges lie ahead. Philanthropy trends show Americans continue to give generously even in uncertain times, though their giving priorities may shift a bit with the issues at hand.
For example, the predicted cuts in government support of specific programs could put pressure on philanthropic support of basic needs charities and other human services and public-society benefits organization.
It is important to remember that as the national economic climate changes, so can donors' passions and giving patterns change. Different and innovative approaches to cultivate prospects and donors may be called for to increase giving and move your organization forward.
We encourage you to download a free copy of the Giving USA 2017 highlights or order your full copy of the report at givingusa.org.
To go in-depth on the numbers and their implications for your work in nonprofit fundraising, register now to join Angela White and Co-Managing Editor of Giving USA Mallory St. Claire on our free webinar tomorrow, June 14th, at Noon EDT.