For donors ages 20-35, celebrity endorsements offer little sway and personal asks trump technology
INDIANAPOLIS (April 7, 2011) – While the Millennial generation has often been characterized as a self-centered, technologically plugged-in and personally disconnected group, a new survey reveals that people ages 20 to 35 are in fact diverse, human and ready to give.
The second annual Millennial Donors Study conducted by Achieve and Johnson, Grossnickle and Associates (JGA) finds that of the 3,000 people ages 20 to 35 who responded to the survey, 93 percent gave to nonprofit organizations in 2010, with 10 percent giving $1,000 or more.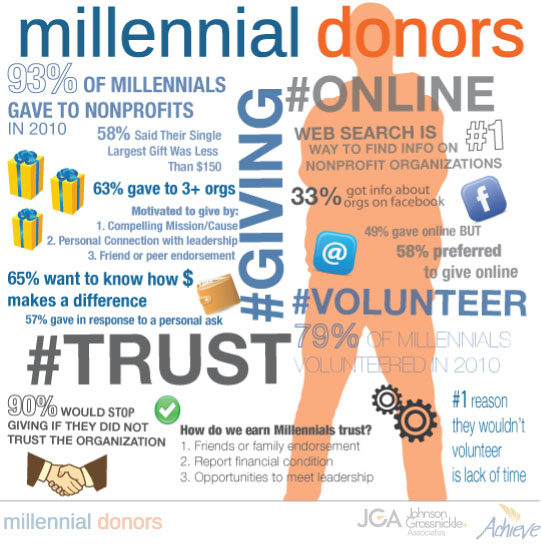 One of the key factors contributing to that generosity is an organization's trustworthiness. Nearly 85 percent of respondents said they would be very or somewhat interested in giving to organizations they can fully trust; on the other hand, nine out of 10 donors said they would stop giving to an organization if it somehow lost their trust.
This year's survey echoed a number of questions from last year's but also delved into new areas and offered more detail in an effort to provide new insights into the giving habits of Millennials.
To download the complete study, learn more about Millennials and register to participate in a free Webinar on April 21, visit www.MillennialDonors.com.
To further explore the next generation of donors, join us on June 22, as JGA and Achieve partner with the CASE Foundation to present a virtual summit you can attend right from your desk. MDS11 will feature national speakers challenging the traditional modes of fundraising and engagement. Watch for registration information soon at MillennialDonors.com.