What board member doesn't love thinking about fundraising on behalf of your organization? Just kidding. I am guessing maybe you have a few that don't jump out of bed excited to pick up the phone and set up appointments with their network of contacts to talk about your organization.
In a perfect world, every board member would be eager and excited to cultivate, solicit, and steward gifts for the organizations that they serve, but we don't live in a perfect world.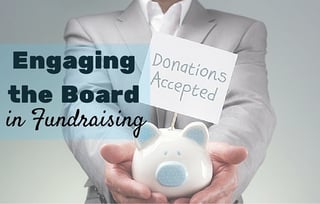 So, how do we help our board members clearly understand the role of the board in fundraising? In the first of this two-part board fundraising blog series, I'll provide tips on creating a board culture that understands the importance of fundraising. Then, next week I will outline ways to engage every board member in a fundraising role to support the organization.
First, engaging the board in fundraising has to be a part of the culture of the organization. It is not a once a year activity. Here are some key steps to take to build a stronger fundraising culture with your board:
The board's role in fundraising should never be a surprise.
When you recruit board members have an open conversation with them about the importance of fundraising to the continued success of the organization and the role the board needs to play. Current board members can play a key role in talking with the prospective board member about how they view fundraising and the various opportunities that are available for board members to engage. Also, make sure that fundraising is a component listed in the job description that the board member reviews prior to agreeing to serve on the board. This doesn't mean they will be active in soliciting, but it should clearly point out that the board has a role to play and that if they join the board it is expected they will be actively engaged.
Being on a board does require financial contribution to the organization.
There is always a debate about what level of contribution board members should make. In some cases the board has a minimum gift level that is required to either personally contribute or solicit from their network. In other cases, it is left more open ended or not talked about at all. Generally I am not in favor of listing a specific dollar amount, but I do think it has to be clearly spelled out that board members are expected to financially support the organization and the organization should be in the board members top two or three organizations that they support. This allows for some flexibility depending on the member's personal capacity, but it also clearly states that to be on this board members have to make the organization a priority.

Fundraising should be discussed at every board meeting.
Fundraising can't be an afterthought to the board members and it can't only be discussed when an organization is in a campaign. Everyone has to know what is taking place and openly discuss the role that they can be playing. Also, the role of fundraising and development should not just be discussed with the development committee. Yes, the development committee members are going to be the most hands-on, but the full board has to have a clear understanding about the impact that private support has on the organization. The goals and metrics of the fundraising department need to be clearly explained and reviewed on a regular basis. And, when finance gives their update it has to clearly show the revenue from fundraising as a key piece of the puzzle.
Hopefully the points above will provide you with some ideas for creating a stronger culture of fundraising within the board. Once that culture is firmly established, board members will have a greater understanding of the crucial role they can play in fundraising for your organization.
Next week, I will provide some ideas to help every board member find a way they can help raise funds for the organization without stepping too far out of their comfort zone.